All Reference Recordings SACDs are hybrid and will play on any CD player.

Multichannel Hybrid SACD / HDCD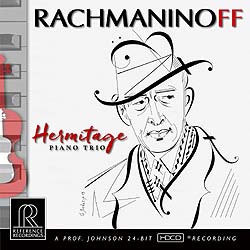 RACHMANINOFF
Trio &eacutelégiaque No 1 in G minor
Trio élégiaque No 2 in D minor, Opus 9
Vocalise, Opus 34 No. 12 — World Premiere
recording of piano trio transcription by Julius Conus

Hermitage Piano Trio
Misha Keylin, violin ~ Sergey Antonov, cello ~ Ilya Kazantsev, piano

RR-147 SACD
[Hybrid Multichannel SACD / HDCD]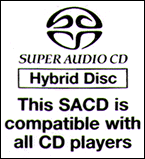 ELECTRIFYING PIANO TRIO PERFORMANCES IN THE GREAT RUSSIAN MUSICAL TRADITION!
The Hermitage Piano Trio is distinguished by its exuberant musicality, interpretative range, and sumptuous sound – attributes that Reference Recordings expects to be highly appealing to music lovers and audiophiles worldwide.



Following a recent performance, The Washington Post raved that "more striking even than the individual virtuosity was the profound level of integration among the players, who showed a rare degree of ensemble from beginning to end." Based in the United States, the Trio excels at performing an enormous variety of music and has a wide repertoire ranging from Rachmaninoff, Shostakovich, Arensky, Glinka, and Tchaikovsky to Schubert, Beethoven, Mendelssohn, Dvořák, and Brahms.



This is their debut album as a trio. More albums with Reference Recordings are planned. Sessions were held at the famed Mechanics Hall in Worcester, MA, and were recorded by Reference Recordings' engineering team, comprised of GRAMMY® winning engineer and Technical Director Keith O. Johnson, and multi-GRAMMY® nominated engineer Sean Royce Martin. The album was produced by the multi-GRAMMY® nominated team, Marina and Victor Ledin.



A rarity in the chamber music world, this elite trio is comprised of three musicians who are noted soloists in their own right. In a career already spanning fifty countries on five continents, violinist Misha Keylin is attracting particular attention with his world premiere CD series of the seven Henri Vieuxtemps violin concertos. These best selling recordings have garnered numerous press accolades and awards, including "Critic's Choice" by The New York Times, Gramophone, and The Strad. Hailed as "a brilliant cellist" by the legendary Mstislav Rostropovich, Sergey Antonov went on to prove his mentor's proclamation when he became one of the youngest cellists ever awarded the gold medal at the world's premier musical contest, the quadrennial International Tchaikovsky Competition. Antonov's entry into this elite stratum of sought-after classical artists has already placed him on stages at world-renowned venues from Russia's Great Hall at the Moscow Conservatory to Suntory Hall in Tokyo. Pianist Ilya Kazantsev, a fresh and exciting presence on the international music scene and a passionate interpreter of his native Russian repertoire – hailed by The Washington Post as "virtually flawless" – has performed as recitalist and soloist with orchestras in Russia, Canada, Europe, and the United States. Among his many awards and honors, Mr. Kazantsev received first prize at the Nikolai Rubinstein International Competition (Paris) and a won the International Chopin Competition (Moscow) and the 2007 & 2008 World Piano Competitions (Cincinnati).



For over 40 years, REFERENCE RECORDINGS has been one of the most innovative and respected independent labels in the music business. Reference Recordings releases have been highly praised for their dedication to high quality sound in the service of great music. After more than 175 releases, RR is still recording what many consider to be the finest sounding classical, jazz and blues discs in the world.



1. Trio élégiaque No. 1 in G minor (1892) 14:34



Trio élégiaque No. 2 in D minor, Opus 9
(1893, revised 1907 and 1917) 50:09
2. I. Moderato-Allegro vivace (D minor) 19:36
3. II. Quasi variazione. Andante (F major) 22:00
4. III. Allegro risoluto-Moderato (D minor) 8:33



5. Vocalise, Opus 34, No. 12
(1915, transcribed by Julius Conus (1869-1942) in 1928) 7:00



Total Time: 71:43
---