All Reference Recordings SACDs are hybrid and will play on any CD player.

Multichannel Hybrid SACD / HDCD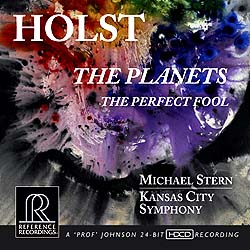 HOLST
THE PLANETS & THE PERFECT FOOL

KANSAS CITY SYMPHONY
MICHAEL STERN


RR-146 SACD
[Hybrid Multichannel & Stereo SACD / HDCD]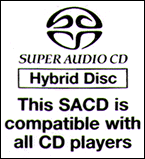 MICHAEL STERN AND THE KANSAS CITY SYMPHONY--BRILLIANT PERFORMANCES, DAZZLING SOUND!


SAN FRANCISCO: Reference Recordings proudly presents Holst's best known and beloved works in an outstanding interpretation from Michael Stern and the Kansas City Symphony. This hybrid SACD release was recorded in the beautiful and acoustically acclaimed Helzberg Hall, Kauffman Center for the Performing Arts. It was produced by David Frost, six-time winner of the Classical Producer of the Year GRAMMY® award. It was recorded by Reference Recording's engineering team, comprised of GRAMMY® winning engineer and Technical Director Keith O. Johnson, and multi-GRAMMY® nominated engineer Sean Martin.



The Kansas City Symphony has a vision to transform hearts, minds and its community through the power of symphonic music. Founded in 1982, the Symphony has established itself as a major force in the cultural life of the community. Praised for performances of uncompromising standard, the orchestra is the largest in the region and holds a national reputation under the artistic leadership of Music Director Michael Stern.



This is the seventh in Reference Recordings'series with Kansas City Symphony. Previous albums are Shakespeare's Tempest, the Grammy® Award-winning Britten's Orchestra, an Elgar/Vaughan Williams project, Miraculous Metamorphoses, an all Saint-Saëns CD featuring the magnificent Organ Symphony, and the music of contemporary American composer Adam Schoenberg (nominated for two Grammy® Awards). Two additional projects, featuring one-movement symphonies by Barber, Scriabin and Sibelius; and a live recording of works of Johannes Brahms, have been recorded and slated for future release.



For over 40 years, REFERENCE RECORDINGS has been one of the most innovative and respected independent labels in the music business. Reference Recordings releases have been highly praised for their dedication to high quality sound in the service of great music. After more than 175 releases, RR is still recording what many consider to be the finest-sounding classical, jazz and blues discs in the world.


GUSTAV HOLST


THE PLANETS
1. Mars, the Bringer of War 7:41
2. Venus, the Bringer of Peace 8:19
3. Mercury, the Winged Messenger 3:54
4. Jupiter, the Bringer of Jollity 8:23
5. Saturn, the Bringer of Old Age 9:26
6. Uranus, the Magician 5:52
7. Neptune, the Mystic 7:08



THE PERFECT FOOL
8. Ballet Music from The Perfect Fool 10:39
Andante (invocation)
Dance of Spirits of Earth
Dance of Spirits of Water
Dance of Spirits of Fire

---