All Reference Recordings SACDs are hybrid and will play on any CD player.

Multichannel Hybrid SACD / HDCD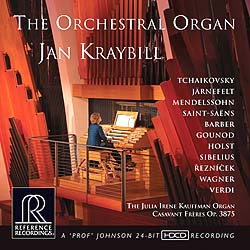 THE ORCHESTRAL ORGAN

JAN KRAYBILL
Julia Irene Kauffman Casavant Organ
Kauffman Center, Helzberg Hall, Kansas City


RR-145 SACD
[Hybrid Multichannel SACD / HDCD]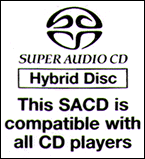 SONIC SPLENDOR!
AMAZING ORGAN PERFORMANCES GIVE NEW DIMENSIONS TO BELOVED ORCHESTRAL FAVORITES!


SAN FRANCISCO: In the 19th and early 20th century, organists of exceptional artistic skill developed organ transcriptions of orchestral music into a true art form. Each of the works on this disc is spectacular in its original form. To create The Orchestral Organ, we have chosen works of many different composers, adapted into organ transcriptions of the highest artistic order. These transcriptions are not intended for comparison with, or replacement of, the original orchestral versions. In presenting them we are offering fascinating new dimensions for these compositions, whether familiar or new to the listener. Within the pieces are a variety of tone colors and compositional details that exhibit the remarkable abilities of organist Jan Kraybill, and showcase the spectacular Julia Irene Kauffman Casavant Organ at the Kauffman Center's Helzberg Hall in Kansas City.



Dr. Jan Kraybill is a musical leader, performer, educator, organ consultant, and enthusiastic advocate for the power of music to change lives for the better. She is Organ Conservator at the Kauffman Center for the Performing Arts in Kansas City, Missouri, and Organist-in-Residence at the international headquarters of Community of Christ in Independence, Missouri. In these roles she plays and oversees the care of three of the Kansas City metro area's largest pipe organs: the 113-rank Aeolian-Skinner and 102-rank Casavant organs in Community of Christ's Auditorium and Temple, and the 102-rank Julia Irene Kauffman Casavant at the Kauffman Center's Helzberg Hall, where the Orchestral Organ was recorded. Dr. Kraybill has performed as a soloist, collaborative artist, and hymn festival designer/leader in many venues in the U.S. and in Australia, Belgium, Canada, Denmark, France, Germany, Poland, Russia, South Korea, Tahiti, The Netherlands, and The United Kingdom. She has been featured at regional and national conventions of the American Guild of Organists, the Hymn Society, and other musicians' organizations; and on American Public Media's Pipedreams and other broadcasts. This is her third album release with Reference Recordings.



For over 40 years, REFERENCE RECORDINGS has been one of the most innovative and respected independent labels in the music business. Reference Recordings releases have been highly praised for their dedication to high quality sound in the service of great music. Founder Tam Henderson (multi-year GRAMMY® nominee for Producer of the Year), was joined in 1978 by engineer Keith O. Johnson (2011 GRAMMY® winner, and 10 additional nominations). Some 150 projects later, Reference Recordings is still recording what many consider to be the finest sounding classical, jazz and blues discs in the world.


1. TCHAIKOVSKY
Coronation March 5:58
First recording!

2. BARBER
Adagio for Strings 9:55

3. GOUNOD
Funeral March of a Marionette 5:22

4. HOLST
Chaconne 5:16
from First Suite for Military Band, Op.28, No.1
First recording!

5. SIBELIUS
Finlandia 8:50

6. ŘEZNÌČEK
Praeludium and Chromatic Fugue 13:39
WORLD PREMIERE!
7. SAINT-SAËNS
Romance
from Orchestral Suite in D, Op.49 6:03

8. WAGNER
Forest Murmurs from "Siegfried" 4:23
First recording!

9. MENDELSSOHN
Scherzo 6:12
from "A Midsummer Night's Dream"

10. JÄRNEFELT
Praeludium 3:10

11. VERDI
Grand March from "Aida" 5:43
---