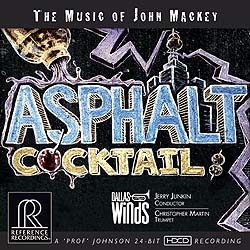 THE MUSIC OF JOHN MACKEY
ASPHALT COCKTAIL

DALLAS WINDS
Jerrey Junkin, conductor
Christopher Martin, trumpet



RR-144 HDCD




ALL JOHN MACKEY AND ALL SPECTACULAR!
SAN FRANCISCO — Brilliant performances by THE DALLAS WINDS have been captured in superb audiophile sound by Reference Recordings' award-winning engineering team: Keith O. Johnson and Sean Martin. ASPHALT COCKTAIL was crowd-funded by fans of Mackey and of the Dallas Winds. Their support made this unique, all-John-Mackey release possible. The recording was made in Dallas Texas, in the Morton H. Meyerson Concert Center, one of the world's greatest concert halls.



Mackey is one of today's most popular and sought- after composers of contemporary classical music, with an emphasis on wind band and orchestral music. His music runs the gamut of human emotion, from the sublime to the ridiculous. One minute he offers the sound of ripping metal, then suddenly gives you a melody that's achingly beautiful. John always writes with a purpose, be it jostling you through the wildest Manhattan cab ride ever, or painting that ethereal hour just before sunset.



Special guest artist on ASPHALT COCKTAIL is Principal Trumpet of the New York Philharmonic, Christopher Martin, performing Mackey's recently written Antique Violences: Concerto for Trumpet. Also included is the World Premiere of This Cruel Moon based on the second movement of Mackey's Wine-Dark Sea: Symphony for Band.



THE DALLAS WINDS is the leading professional civilian wind band in the United States today. In his 26th season as Artistic Director and Conductor of the Dallas Winds, JERRY JUNKIN is recognized as one of the world's finest wind symphony conductors. He has also served as Music Director and Conductor of the Hong Kong Wind Philharmonia since 2003, and Principal Guest Conductor of the Senzoku Gakuen College of Music Wind Symphony in Tokyo since 2007. Additionally, 2018-19 marks his 31st year on the faculty of The University of Texas at Austin, where he holds the Vincent R. and Jane D. DiNino Chair for the Director of Bands.



For over 40 years, REFERENCE RECORDINGS has been one of the most innovative and respected independent labels in the music business. Reference Recordings releases have been highly praised for their dedication to high quality sound in the service of great music. Founder Tam Henderson (multi-year GRAMMY® nominee for Producer of the Year), was joined in 1978 by engineer Keith O. Johnson (2011 GRAMMY® winner, and 10 additional nominations). Some 150 projects later, RR is still recording what many consider to be the finest-sounding classical, jazz and blues discs in the world.


1. Asphalt Cocktail 5:41



2. This Cruel Moon 7:46



3. Fanfare for Full Fathom Five 3:12



4. Sheltering Sky 6:38



5. High Wire 4:18



6. Hymn to a Blue Hour 10:42



ANTIQUE VIOLENCES: CONCERTO FOR TRUMPET
7. The blooded lines 4:45
8. Secrets' teeth 4:56
9. Sorrow is a blade 6:59
10. The curtain calls 4:01



11. The Frozen Cathedral 13:11



12. The Ringmaster's March 2:53
---