Quartet San Francisco's eclecticism embraces the spirit of our time!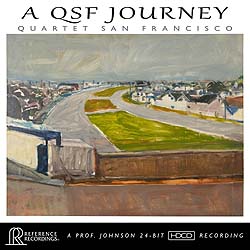 A QSF JOURNEY


QUARTET SAN FRANCISCO
Jeremy Cohen, violin ~ Joseph Christianson, violin
Chad Kaltinger, viola ~ Andrés Vera, cello




RR-143 HDCD




SAN FRANCISCO — Founded in 2001 by violinist and composer Jeremy Cohen, Quartet San Francisco expresses itself in its agility and standout virtuosic playing. These crossover specialists excel in multiple styles, from jazz to tango, pop to funk, blues to bluegrass, gypsy swing to big band and beyond. On this new release they invite you to join in their journey into the chamber music of the 21st century.



The twelve tracks on the album include nine written or arranged by Cohen. Seven are world premieres, and another three are world premieres in string quartet form! These outstanding performances have been captured in natural, uncompromising audiophile sound by Reference Recordings' own award-winning engineering team: Keith O. Johnson and Sean Royce Martin. A QSF Journey was recorded May 2018 at Skywalker Sound in Marin County, California.



A QSF Journey is Quartet San Francisco's first release on the Reference Recordings label. QSF's last four releases (2013, 2009, 2007 and 2006) garnered three Grammy® nominations for Best Classical Crossover; three for Best Engineered Classical (Leslie Ann Jones and Judy Kirchner); and two for Best Instrumental Composition. In 2004 the group won the Argentine Consulate's International Tango Competition in New York City. We are proud to have them on our label.



For over 40 years, REFERENCE RECORDINGS has been one of the most innovative and respected independent labels in the music business. Reference Recordings releases have been highly praised for their dedication to high quality sound in the service of great music. Founder Tam Henderson (1998 Grammy® nominee for Producer of the Year), was joined in 1978 by engineer Keith O. Johnson. Some 140 projects and many Grammy® awards and nominations later, Reference Recordings is still recording what many consider to be the finest-sounding classical, jazz and blues discs in the world.


1. Tango Eight (Cohen)* 2:21
2. Fiesta! (Lipsky)** 4:05
3. Tango Carnevale (Cohen)* 5:07
4. Francini (Cohen)*** 3:45
5. Rhapsody in Bluegrass (GershwinRouse, arr. Cohen)* 5:19
6. La Heroína (Cohen)* 5:30
7. How Sweet the Sound (Cohen)* 3:24
8. Federico II (Sollima) 9:45
9. Al Colón (Cohen)* 5:15
10. Jasmine Flower/Beautiful Scenery of Wuxi
(Traditional Chinese folk songs, arr. Cohen) 4:23
11. Toroi Bandi (Mongolian folk song, arr. Cohen)** 4:01
12. Jambo (Traditional African folk song, arr. Cohen)** 3:38



Total Time: 56:33



* World Premiere
** World Premiere of String Quartet Version
*** World Premiere CD Release
(Strings Magazine previously recorded another quartet for a publishing demo)
---