fresh!FROM R.R.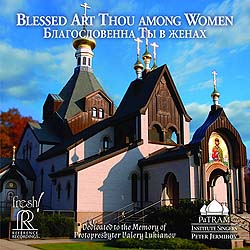 Blessed Art Thou Among Women
БЛАГОСЛОВЕННА ТЪІ В ЖЕНАХ

PaTRAM INSTITUTE SINGERS
PETER JERMIHOV


HDCD
FR-737



Multi-Grammy® nominated PaTRAM Institute™ presents rare Russian choral masterpieces!


Reference Recordings® is very pleased to present the third release in our series from the PaTRAM INSTITUTE™ rising stars whose previous two albums on our label, Teach Me Thy Statutes (FR727 SACD) and The Divine Liturgy of St. John Chrysostom (FR731), have been honored with Grammy® nominations for Best Choral Performance. The music performed on this new recording of Russian Orthodox choral music comprises works of many great Russian composers, all celebrating the theme of Russian Orthodox hymns dedicated to the Virgin Mary.



Blessed Art Thou Among Women is performed by the PaTRAM Institute Singers™, a professional group of Russian and American male and female vocalists, joined by soloists Glenn Miller (basso profundo), Fotina Naumenko (soprano), Protodeacon Leonid Roschko, and two vocal quartets.



Conductor Peter Jermihov writes: "We are privileged to present a program of masterpieces, both those that are rarely or never heard before and those that have worked their way into the rank-and-file of tradition. We are pleased, also, to bring a personal dimension to this project, honoring the memory of a special man, Fr. Valery Lukianov, with a lasting musical tribute."



Alexis and Katherine Lukianov, Cofounders of PaTRAM Institute™ and Executive Producers state: "We are delighted to present Blessed Art Thou among Women, dedicated to our beloved father, Protopresbyter Valery Lukianov, who passed into eternity on May 25, 2018. The Patriarch Tikhon Russian American Music Institute™ strives to present Orthodox sacred music in its highest possible form, uniting deep spirituality, a profound love for the rich traditions of Orthodox Christian singing, and an uncompromising standard of musical professionalism rooted in the great traditions of Russian choral composers. In addition, we seek out unique church venues for our recordings to couple the music with an acoustically rich, Orthodox Worship environment. For this new album, we chose the St. Alexander Nevsky Diocesan Cathedral in Howell, New Jersey which was engineered and built by Fr. Valery. This magnificent structure is considered to be one of America's architectural gems and is adorned with frescoes of stunning beauty and a rich and worshipful acoustic. We are thrilled that our personal tribute to Fr. Valery was recorded in an acoustical space created by him!"



This release was recorded and mastered by the team at Soundmirror, whose outstanding orchestral, solo, opera and chamber recordings have received more than 100 Grammy® nominations and awards. For over 40 years, Soundmirror has recorded for every major classical record label, including Reference Recordings. have received more than 100 Grammy® nominations and awards.


1. Bells of St. Alexander Nevsky Cathedral 2:01
Peter Lukianov, Bell-ringer
2. Today the Virgin Gives Birth, Bortniansky 2:30
3. Today the Virgin Gives Birth, Kastalsky 1:39
4. O Virgin Unwedded, Titov 3:15
5. A Hymn of Praise to the Mother of God, Sviridov 3:03
Fotina Namumenko, Soprano
6. O Most Holy Theotokos, Save Us, P. Chesnokov 3:35
Protodeacon Leonid Roschko, Baritone
7. Do Not Lament Me, O Mother, Zheludkov 5:11
Glenn Miller, Basso Profundo
8. The Theotokos, Who Is Ever-vigilant in Prayer, Rachmaninoff 9:49
9. Virgin Theotokos, Rejoice, Kalinnikov 1:13
10. Virgin Theotokos, Rejoice, Tcherepnin 2:01
11. It Is Truly Meet, Gretchaninoff 1:37
12. It Is Truly Meet, Tcherepnin 2:58
13. Rejoice, O Queen, Kastalsky 1:49
14. All of Creation Rejoices in Thee, Danilin 4:34
15. Do Not Lament Me, O Mother, A. Chesnokov 3:24
16. The Angel Cried Out, Ledkovsky 4:36
Fotina Namumenko, Soprano
17. The Mystery of God from All Eternity, Ilyashenko 1:33
18. O ye Apostles, Assembled Here, Lvovsky 2:42
19. Magnification for the Icon "Joy of All the Sorrowful," Matveyev 3:26
Alexandra Olsavsky, Soprano / Lauren McAllister, Mezzo-Soprano / Daniel Shirley, Tenor / Michael Hawes, Bass-Baritone
20. With the Voice of the Archangel, Tolstiakov 5:11
21. To Thee, the Victorious Leader, Nikolsky 1:17
22. To Thee, the Victorious Leader, Tolstiakov 1:44
23. Beneath Thy Compassion, Bortniansky 3:58
24. In the Flesh Thou Didst Fall Asleep, Feofanovskoe 2:26
Sergei Tkachenko, Tenor / Pavel Murashka, Tenor / Protodeacon Leonid Roschko, Baritone / Alexis Lukianov, Basso Profundo
25. Memory Eternal, P. Chesnokov 3:33
Alexis Lukianov, Basso Profundo



Total Time: 79:11
---