fresh!FROM R.R.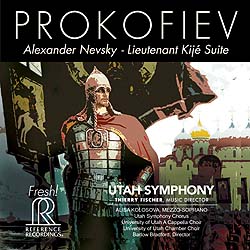 PROKOFIEV
Alexander Nevsky & Lieutenant Kij&eacute suite

UTAH SYMPHONY ORCHESTRA
THIERRY FISCHER, MUSIC DIRECTOR
ALISA KOLOSOVA, MEZZO-SOPRANO
Utah Symphony Chorus
University of Utah A Cappella Choir
University of Utah Chamber Choir
Barlow Bradford, Director


FR-735


[Multichannel & Stereo Hybrid SACD / HDCD]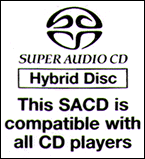 THE RUSSIAN COMPOSER SERGEI PROKOFIEV WAS ONE OF THE GIANTS OF 20TH CENTURY MUSIC.
Reference Recordings is proud to present the Utah Symphony conducted by Thierry Fischer, in grand new performances of Alexander Nevsky and the Lieutenant Kijé suite, two of his most brilliant and dramatic musical works. The music of Lieutenant Kijé was originally written as the score to the film of the same name, released in March 1934. It was Prokofiev's first film music and his first commission. Prokofiev soon adapted it into the five-movement Lieutenant Kijé Suite, first performed in December 1934, and which quickly became a favorite in the international concert repertoire. Then, in 1938, Prokofiev collaborated with film director Eisenstein to create the score for the film Alexander Nevsky. He later adapted much of his score into the large-scale cantata for mezzo-soprano, orchestra and chorus featured on this recording.



Founded in 1940, the Utah Symphony performs more than 175 concerts each season and offers patrons access to world class live musical performances of the world's greatest music in the state's top venues. Since being named the orchestra's seventh music director in 2009, Thierry Fischer has attracted leading musicians and top soloists, refreshed programming, drawn increased audiences, and galvanized community support. In addition to numerous regional and domestic tours, the Utah Symphony has made seven international tours and performed at Carnegie Hall in Spring 2016 coinciding with the orchestra's 75th anniversary celebrations. The Utah Symphony has released more than 100 recordings, including recent Reference Recordings releases of Mahler's Symphony No.1 and Symphony No.8, Andrew Norman's Switch, Nico Muhly's Control, and Augusta Read Thomas' Eos.



This release was recorded and mastered by the team at Soundmirror, whose outstanding orchestral, solo, opera and chamber recordings have received more than 100 Grammy nominations and awards. For over 40 years, Soundmirror has recorded for every major classical record label, including Reference Recordings.



Reference Recordings, founded in 1976, is based in San Francisco, with multiple GRAMMY® awards and a catalog that includes numerous American and international orchestras, ensembles and choruses. FRESH! is part of Reference Recordings' mission to encourage unique and fine artists, and give them a strong platform for promotion and sales nationally and internationally.


Prokofiev


Alexander Nevsky
1 Russia under Mongolian Tyranny 3:29
2 Song of Alexander Nevsky 3:50
3 The Crusade in Pskov 7:28
4 Arise, People of Russia 2:06
5 The Battle on the Ice 13:46
6 The Field of the Dead 6:13
7 Alexander enters Pskov 4:31



Lieutenant Kijé Suite
8 Kijé's Birth 3:58 9 Romance 3:51
10 Kijé's Wedding 2:33 11 Troika 2:42
12 Kijé's Funeral 5:22
---