fresh!FROM R.R.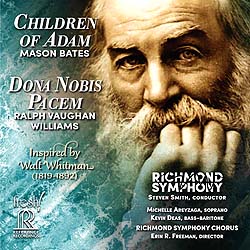 MASON BATES
CHILDREN OF ADAM

RALPH VAUGHAN WILLIAMS
DONA NOBIS PACEM

Inspired by Walt Whitman

RICHMOND SYMPHONY
STEVEN SMITH, CONDUCTOR

MICHELLE AREYZAGA, SOPRANO
KEVIN DEAS, BASS-BARITONE
RICHMOND SYMPHONY CHORUS
ERIN R. FREEMAN, DIRECTOR


FR-732 HDCD




GROUNDBREAKING NEW MUSIC FROM MASON BATES AND THE RICHMOND SYMPHONY!
Reference Recordings is proud to present a World Première recording of MASON BATES: Children of Adam, songs of creation – commissioned by the Richmond Symphony – coupled with RALPH VAUGHAN WILLIAMS: Dona nobis pacem. These pieces both draw inspiration from Walt Whitman's poetry and this release celebrates his bicentennial (born 1819). Children of Adam is a collection of exuberant celebrations of creation, from American poets to sacred and Native American texts. The title comes from a Whitman poem that appears throughout the work in the form of brief "fanfare intermezzos." Whitman's celebrations of sensuality, considered provocative at the time, explore the connection of the body and the soul. Between these choral fanfares, each movement of the work offers a different perspective on creation.



These works are brilliantly performed by the Richmond Symphony conducted by Steven Smith, and the Richmond Symphony Chorus, Erin R. Freeman, Director. Solo performers on the Vaughan Williams are Michelle Areyzaga, soprano, and Kevin Deas, bassbaritone. Recorded live at the Carpenter Theatre, Dominion Energy Center, Richmond Virginia; engineered by Ed Thompson; and produced by Ed Thompson, Victor and Marina A. Ledin.



Recently named the most-performed composer of his generation and the 2018 Composer of the Year by Musical America, Mason Bates serves as the first composer-in-residence of the Kennedy Center for the Performing Arts. Championed by renowned conductors such as Riccardo Muti, Michael Tilson Thomas, and Leonard Slatkin, his symphonic work has received widespread acceptance for its unique integration of electronic sounds, and his opera The (R)evolution of Steve Jobs, won a GRAMMY® Award for "Best Opera Recording." As both a DJ and a curator, he has become a visible advocate for bringing new music to new spaces, whether through institutional partnerships such as his former residency with the Chicago Symphony Orchestra, or through his club/classical project Mercury Soul, which transforms commercial clubs into exciting hybrid musical events. He has also composed for films, including Gus Van Sant's The Sea of Trees starring Matthew McConaughey and Naomi Watts.



The Richmond Symphony, conducted by Steven Smith, is the largest performing arts organization in Central Virginia. The organization includes an orchestra of more than 70 professional musicians, the 150voice Richmond Symphony Chorus and more than 260 students in the Richmond Symphony Youth Orchestra programs. The Symphony was recently named one of 21 American orchestras selected as a leader in orchestra innovation by the League of American Orchestras through its Futures Fund Initiative. The Richmond Symphony is partially funded by the Virginia Commission for the Arts and the National Endowment for the Arts.


Track Listing


CHILDREN OF ADAM
MASON BATES
1. I. "From Pent-Up Aching Rivers" 2:22
from Children of Adam, Walt Whitman
2. II. Psalms 144 & 128 4:25
3. III. "I Sing the Body Electric" 2:07
from Children of Adam, Walt Whitman
4. IV. Tolepe Menenak ("Turtle Island," from the Algonquian), 6:02
Mataponi Indians of Virginia, as told by Sharon Sun Eagle,
dictated by Hope Armstrong Erb
5. V. "Prayers of Steel" & "Smoke and Steel", Carl Sandburg 5:07
7. VI. from The Book of Genesis 5:24
6. VII. from "To the Garden, the World" 2:37
from Children of Adam, Walt Whitman



DONA NOBIS PACEM
VAUGHAN WILLIAMS
8. I. Agnus Dei 3:21
9. II. Beat! beat! drums! Walt Whitman 3:45
10. III. Reconciliation, Walt Whitman 6:05
11. IV. Dirge for Two Veterans, Walt Whitman 9:47
12. V. The Angel of Death, John Bright 3:03
13. VI. 'O man greatly beloved 7:05



Total Time: 61:17
---