fresh!FROM R.R.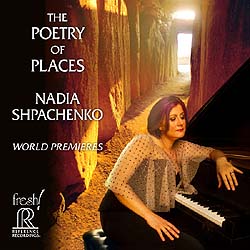 THE POETRY OF PLACES



NADIA SCHPACHENKO

WORLD PREMIERES


FR-730


"NADIA SHPACHENKO: MUSIC, MONUMENTS AND MORE!"


SAN FRANCISCO - Nadia Shpachenko's latest Reference Recordings release The Poetry of Places features World Premiere recordings of works for solo piano, for two pianos, percussion, electronics, voice, and toy piano in a fascinating mélange inspired by great architecture and places. The eight compositions monumentalize places as wildly diverse as the Copland House in Cortlandt, NY, The American Visionary Art Museum in Baltimore, Louis Kahn's National Assembly Buildings in Bangladesh, Newgrange Ancient Temple in Ireland, and Frank Gehry's House in Santa Monica, CA. Included is a significant new work from Andrew Norman, Frank's House, for two pianos and percussion, and another large work from Nina C. Young, Kolokol, for two pianos and electronics (a 'fantasy' inspired by Russian Orthodox Church Bells). Additionally, six solo works were written specifically for this project by Amy Beth Kirsten, Hannah Lash, James Matheson, Harold Meltzer, Lewis Spratlan, and Jack Van Zandt. The composers use very different musical approaches and sonic techniques in response to their chosen spaces.



Pianist Nadia Shpachenko-Gottesman has performed extensively in solo recitals and with orchestras in major venues across North America, Europe and Asia. Described by critics as a "truly inspiring and brilliant pianist … spellbinding in sensitivity and mastery of technique," Nadia enjoys bringing into the world things that are outside the box - powerful pieces that often possess unusual sonic qualities or instrumentation. Nadia's concert highlights include recitals at Concertgebouw, Carnegie Hall, Disney Hall, on the Piano Spheres and Los Angeles Philharmonic's Green Umbrella and Chamber Music Series, and with numerous orchestras in Europe and the Americas. An enthusiastic promoter of contemporary music, she has been chosen to premiere more than 60 piano, string piano, and toy piano works. Her debut album on Reference Recordings, Woman at the New Piano (FR711, 2014), was nominated for GRAMMY® Awards in three categories: Best Classical Compendium; Best Chamber Music/Small Ensemble Performance, and as part of the body of work in the Producer of the Year, Classical nomination for Marina A. Ledin and Victor Ledin.



FRESH! is part of Reference Recordings' mission to encourage new artists and give them a strong platform for promotion and sales nationally and internationally.


1.) Andrew Norman Frank's House for two pianists and two percussionists 09:25
with Joanne Pearce Martin, piano, Nick Terry and Cory Hills, percussion



2.) Harold Meltzer In Full Sail for solo piano 07:49



3.) Jack Van Zandt Sí an BhrÚ for piano and electronics 11:52



4.) Hannah Lash Give Me Your Songs for solo piano 7:09



5.) Amy Beth Kirsten h.o.p.e. for piano, toy piano, and voice (one performer) 6:12



6. - 8.) James Matheson Alone, in waters shimmering and dark for solo piano
6. ) Island 3:52
7. ) Capillary Waves 2:14
8. ) To Sky 2:52



9.) Lewis Spratlan Bangladesh for solo piano 15:01



10.) Nina C. Young Kolokol for two pianos and electronics 11:06
with Joanne Pearce Martin, piano
---