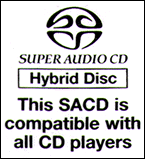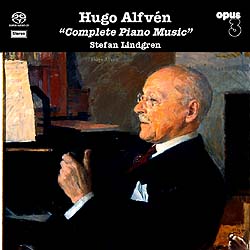 CD 29001
Stereo Super Audio CD

Hugo Alfvén : Complete Piano Music

Stefan Lindgren




Hugo Alfvén (1872-1960) was born in Stockholm, but his music is often influenced by the experiences he had in the Swedish archipelago and later by impressions of folk music from the province of Dalecarlia, where he lived in his later years. His musical legacy comprises five symphonies and one ballet, Bergakungen (The Mountain King) as well as the symphonic poem En skärgårdssägen (A Tale of the Archipelago) and - last but not least - the Swedish Rhapsody No. 1, a work that has made his name known all over the world. In addition, he has composed a considerable amount of choral music related to Swedish folk music. During long periods of his life he worked as a choral conductor: in Uppsala for the men's choir, Orphei drängar, and in Dalecarlia for Siljanskören, a mixed choir. His instrument was, like that of his Finnish colleague, Jean Sibelius, the violin. Indeed, Alfvén had such a command of this instrument that when a young man he was employed as a violinist for a few years in the orchestra of the Royal Swedish Opera in Stockholm. As early as 1896 Alfvén wrote a sonata for his instrument, a work that he gave the opus number 1. Furthermore, besides being an active musician, he was a gifted painter. In his youth he had difficulty deciding whether he should devote himself to composition or to painting. Late in life he showed his literary talent in his colourful four-volume memoirs.



Stefan Lindgren (1960) is one of Sweden's leading pianists. He began his studies at the Royal College of Music in Stockholm as a sixteen-year-old, and at the age of eighteen he appeared as soloist in his own piano concerto with the Royal Stockholm Philharmonic Orchestra.



In 1980 he received his Soloist Diploma with a Medal of Honour, and the following year he went to New York to study at Juilliard School of Music. On completion of his studies he soon became a sought-after name as a pianist, and over the years he has appeared as a soloist in Sweden and abroad, including London, Paris, Vienna and New York.



Furthermore he has made a significant contribution as a chamber music player, accompanist and teacher. He has taught both at the Royal College of Music in Stockholm and at the Örebro College of Music. Since 2007 Lindgren is the orchestral pianist of Royal Stockholm Philharmonic Orchestra.


01. Triumf Marsh op. 10 4'25



02. Nocturne 4'12



Skärgårdsbilder op. 17
03. Solglitter 3'29
04. Natt 4'14
05. Böljesång 3'20



06. Drömmeri (Rêverie) 2'42



Fyra Låtar från Leksand
07. Gånglåt 2'31
08. Dans 2'18
09. Skänklåt 1'12
10. Danslek 2'36
11. Sorg 03'31
12. Margita dansar 10'23
13. Minne från Åsen, Dalarna 01'18
14. Mazurkas tillegnad Alma 01'34
15. Andantino E-dur för piano (1899) 01'56
16. Menuett op. 2 03'32
17. Il primo amore. Vals 06'10



Fragment
18. Vinden 00'50
19. Mephisto Valse brilliante 01'57
20. Vals 00'49
21. Sång 01'23
22. Sovernir d'Elfsten 01'14
23. Mazurka 01'30
24. Utan titel (Allegro) 01'50