Many Voices: 10 new pieces for violin

Hyeyoon Park violin
Benjamin Grosvenor piano



Sheet Music + CD
NMC DL3036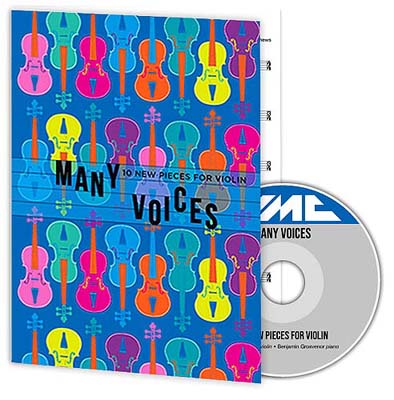 • This release comes with a sheet music book (violin & piano) and audio CD featuring the pieces performed as a duo, and solo piano for the student violinist to play along to.



• Violinist Hyeyoon Park held the LMM award from 2012-15 and pianist Benjamin Grosvenor is an LMM Ambassador.



• Benjamin Grosvener appears by kind permission from Decca.



Colin Matthews OBE. Curator of Many Voices for London Music Masters writes:
"In 2018 London Music Masters celebrated its 10th birthday. As part of the celebrations we commissioned ten of the most exciting emerging and established composers working in the UK today to create new works for children and young people. The pieces are inspired by, and dedicated to, the young musicians learning as part of London Music Masters' primary school music education programme. We believe that by including the many diverse voices, perspectives and stories around us we can create music that will resonate today and in the years to come. Our hope is that this collection will be as inspiring to the children who perform it as it is to the audiences who hear it. Writing for young musicians is such an important part of a composer's job, not least because it stretches us. Writing for those who may be at a very early stage in their musical development without in any sense 'writing down' to them can be very demanding. The response from the composers who were approached to be part of the project has been so heartening, and there is the potential to expand to many more than those who are published here. There could not be a more appropriate title than Many Voices: the intention behind it was always to embrace open-mindedness to the vital importance that creativity plays in our lives, while reflecting the fact that the singing voice is the starting point for all music and fundamental to the development of instrumental writing."



TRACK LISTING



1. Colin Matthews Ghost Story 1'56
2. James Wilson Footprints 1'51
3. Kate Whitley Ripples 1'27
4. Daniel Kidane Aria Antica 3'07
5. Hannah Kendall A Winged Spirit 1'41
6. Michael Berkeley A Dark Waltz 2'11
7. Mark-Anthony Turnage Cleethorpes Chorale 2'46
8. Joanna Lee Midnight Feast 1'59
9. Satoko Doi-Luck Oji-Koen 1'52
10. Tansy Davies Hawk 2'23

---
NMC Recordings are distributed in Australia by
Rockian Trading, P.O.Box 44, Briar Hill, Vic, 3088, Australia
Telephone (03) 9432 4149 ~ Facsimile (03) 9444 6879