Julian Anderson: Poetry Nearing Silence

Birmingham Contemporary Music Group
Nash Ensemble
Martyn Brabbins, conductor



NMC D256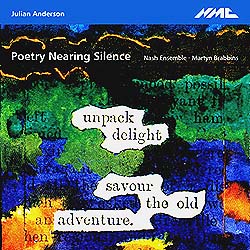 • Other Anderson recordings on NMC: Book of Hours (D121), The NMC Songbook (D150) and Spectrum (D057).



Christopher Dingle writes: "Julian Anderson's music is hard to pin down. It belongs to no school, aesthetic construct or neat-ism. Andersonís music overflows with arichness and plurality of technique, expression and sheer sound, from abstract noise to throbbing euphony, dissonance to consonance, diatonic modes to twelve-tone harmony, and many shades in between. Yet there is also remarkable precision amidst the exuberant abundance of material, not just in the passages of deceptive simplicity, but also in the most whirligig hubbub of textures with natural or microtonal tunings, for Anderson's exceptional compositional craft and formidable ear enable his personality full expression."



This album focuses on Anderson's chamber music. The earliest piece, Ring Dance, written in 1987 and the most recent, Van Gogh Blue, in 2015. Three of the works on the album, Poetry Nearing Silence, Prayer and Van Gogh Blue, were originally composed for the players of the Nash Ensemble, one of the leading chamber ensembles and champions of British new music.



Anderson is a master of evocative titles. Van Gogh Blue is inspired by numerous letters from the artist to his brother Theo. The colour blue was a particular and now famous obsession of his. The Bearded Lady reflects of the story of Baba the Turk, Ring Dance is influenced by the timbre of the Hardanger, a resonant Norwegian folk fiddle. The album title track Poetry Nearing Silence – a suite in eight movements – is inspired by an unusual book of drawings and poems by the artist Tom Phillips entitled The Heart of a Humument.



Also on the album are two related solo works, Prayer for viola (Lawrence Power) and Another Prayer for violin (Benjamin Nabarro).



TRACK LISTING



[01.] Ring Dance Benjamin Nabarro violin • Michael Gurevich violin 6'10



[02.] The Bearded Lady Richard Hosford clarinet-la n Brown piano 8'22



[03.] The Colour of Pomegranates Philippa Davies alto flute • lan Brown piano 6'31



[04.] Prayer Lawrence Power viola 9'45



Poetry Nearing Silence
[05.] I. Muse in rocks or pebbles or clouds or foliage 1'10
[06.] II. Know Vienna... 2'55
[07.] III. My future as the star in a film of my room * 2'15
[08.] IV. Poetry Nearing Silence. Trouble is a voice outside, (hommage to S.B.) 1'57
[09.] V. Lashing in Italy 1'04
[10.] VI. In Bohemia, screwing (hommage to L.J.) 1'17
[11.] VII. In Carpathia, you cared for new things 2'13
[12.] VIII. Tall rain rattled over Paris 1'30



[13.] Another Prayer Benjamin Nabarro violin 10'26



Van Gogh Blue
[14.] I. L'Aube, soleil naissant 3'32
[15.] II. Les Vignobles 2'28
[16.] III. Les Alpilles 3'18
[17.] IV. Eygalieres 6'42
[18.] V. la nuit, peindre les étoiles (le 25 mai 1889,4:40am) 5'49



Total timing 78'06



Nash Ensemble • Amelia Freedman CBE Artistic Director • Martyn Brabbins conductor
Tracks 5-12: Benjamin Nabarro violin, triangle • Michael Gurevich violin, triangle
Tracks 14-18: Ian Brown, piano • Graham Mitchelt, double bass • Marie Lloyd, clarinet, bass clarinet
Tracks 5-12 & 14-18: Lawrence Power, viola • Adrian Brendel, cello • Philippa Davies, flute, piccolo
Richard Hosford, clarinet, E flat clarinet • Hugh Webb, harp



* As suggested by the title, the sound of an old film projector plays out against the music.
---
NMC Recordings are distributed in Australia by
Rockian Trading, P.O.Box 44, Briar Hill, Vic, 3088, Australia
Telephone (03) 9432 4149 ~ Facsimile (03) 9444 6879