Bernard Rands: Chains Like the Sea

Johannes Moser cello
BBC Philharmonic Orchestra
Clark Rundell conductor



NMC D253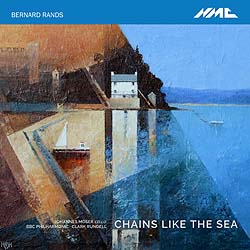 • Bernard Rands' 85th birthday on 2 March 2019



• Also on NMC: Bernard Rands' Memo 1 (A Roaring Flame I NMC D107).



Bernard Rands was born in Sheffield and came to prominence during the 1960s as one of the major British composers of his generation; his work championed by the likes of Boulez and Berio. In the 1970s, Rands took up a Professorship at the University of California and then at Harvard University, and has lived in the United States ever since. In America his music developed through a series of high profile commissions and a seven year residency with the Philadelphia Orchestra, working with Riccardo Muti, and he has written for all the major orchestras in the USA and across the world.



In 2014, for his 80th birthday, the BBC Philharmonic, and Royal Northern College of Music produced a series of concerts celebrating Rands' music. This series culminated in a portrait concert at the BBC Philharmonic's studio in Salford, which is where the recordings on this new album come from, released to celebrate his 85th.



The earliest piece on this album is the Cello Concerto (1996), composed for Mstislav Rostropovitch. The work's first and third movements are woven with the traditional Welsh folk song Hiraeth. Rands studied in Wales, in Bangor, and learned to speak the Welsh language; the word 'hiraeth' connotes 'nostalgia' or 'deep longing for the homeland.' A Welsh theme continues in Chains Like the Sea (2008), with two movements that take lines from the poem Fern Hill by Dylan Thomas, one of Rands' great heroes.



For the third and most recent pieces on this release, we move to warmer climes. Danza Petrificada is a virtuosic showpiece commemorating the centenary of the Mexican revolution. The work is coloured by rattling tambourines, suggesting the ubiquitous percussion of Mexico and the ever present cicadas of the Mexican night.



TRACK LISTING



1. Danza Petrifi cada (2010) 10'31



Cello Concerto (1996)*
2. I. For Slava 9'05
3. II. Fantasia 6'53
4. III. Canzone (from Hiraeth) 12'45



Chains Like the Sea (2008)
5. I. 'the Sabbath rang slowly' 10'20
6. II. 'rivers of the windfall light' 11'27
Johannes Moser cello *
BBC Philharmonic • Clark Rundell conductor



Total timing 61'16



* Johannes Moser appears courtesy of PENTAONE.
---
NMC Recordings are distributed in Australia by
Rockian Trading, P.O.Box 44, Briar Hill, Vic, 3088, Australia
Telephone (03) 9432 4149 ~ Facsimile (03) 9444 6879