Joanna Bailie: Artificial Environments

Plus-Minus Ensemble



NMC D252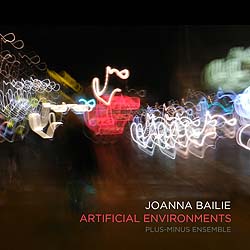 • NMC's Debut Discs are musical calling cards, crucial for gifted composers in the early stages of their careers and giving them the opportunity to release a first full portrait album of their work. Debut Discs has to date supported 17 releases since 2012.



• Joanna Bailie was born in London and studied composition with Richard Barrett. She now lives in Berlin.



The chamber works on this portrait album, the latest in our Debut Discs series, demonstrate Joanna Bailie's distinct and powerful skill of mixing field recordings and other found audio material alongside partial transcriptions, which are played simultaneously on acoustic instruments. The effect is otherworldly and immersive.



In the three-part Symphony-Street-Souvenir Bailie pays homage to the Italian composer Aldo Clementi (1925-2011). She borrows and twists one of Clementi's canons, and introduces some of his musical obsessions. 'Symphony' uses the opening of the C minor symphony of Brahms, one of Clementi's favourite composers; 'Street', a Copenhagen carillon (with accompanying ambient street sounds); and 'Souvenir' a music box. Over these a mixed chamber ensemble interweaves subtle layers and slow glissandi.



Trains features Bach-like musical fragments on solo cello over a textural bed of radically slowed down audio material. In Artificial Environments Nos. 1 to 5 you hear the composer's voice, like a futuristic tour guide in a science fiction world with recorded sounds captured in locations around Europe – the hills of Umbria, Copenhagen, Malmö, London and Brussels and in Artificial Environments No. 8 the solo piano is paired with an urban soundscape, recorded whilst walking up and down a queue of tourists waiting to enter Notre Dame in Paris.



TRACK LISTING



Symphony - Street - Souvenir
1. Symphony 4'18
2. Street 5'12
3. Souvenir 4'52
4. Trains 10'35



Artifical Environments Nos. 1 to 5
5. No. 1 4'35
6. No. 2 3'00
7. No. 3 5'26
8. No. 4 2'52
9. No. 5 4'20



Artificial Environment No. 8
10. ... and the dreams that you dare to dream 4'20
11. Babel 7'08
12. Street 4'41
---
NMC Recordings are distributed in Australia by
Rockian Trading, P.O.Box 44, Briar Hill, Vic, 3088, Australia
Telephone (03) 9432 4149 ~ Facsimile (03) 9444 6879