David Sawer: Rumpelstiltskin

Birmingham Contemporary Music Group
Martyn Brabbins, conductor
Anne Denholm, harp



NMC D251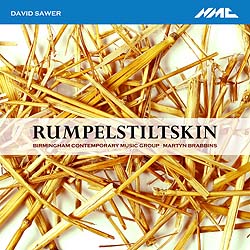 • Other Sawer recordings on NMC: Byrnan Wood (NMC D028S), From Morning to Midnight (NMC D116) and Sawer and Hoyland (NMC D020S)



Drama, or a fascination with theatrical possibilities, is present in many of David Sawer's works, and he has written a number of scores for the theatre and for radio. Operas include From Morning to Midnight which received an Olivier Award nomination for Outstanding Achievement in Opera, Skin Deep with librettist Armando Iannucci, and The Skating Rink, which premiered at Garsington Opera to critical acclaim.



All three of the pieces on this album (David's third for NMC) have a connection with dance: the Rumpelstiltskin Suite (2011) originated in Sawer's 2009, 70-minute ballet Rumpelstiltskin; the early ensemble piece Cat's-Eye (1986) was choreographed by Richard Alston for Rambert in 1992; and premiered in concert in 2016, April\March was commissioned for the Royal Ballet.



David Sawer describes Rumpelstiltskin as "a grotesque fable for our times." He leaves it to us to ponder the modern-day resonances of this dark tale of greed, deceit, cruelty and abuse.



Cats-Eye is inspired by the fantascope projector, with its spectacular optical tricks that shocked audiences in the 1800s. A simple device called "l'oeil-de-chat," caused these images to appear and disappear: as the eye closed, the source of light was extinguished. In this piece Sawer brings in instruments together – often in pairs – then they are pulled apart or pitted against others. Past and present is explored in April\March – the back to front calendar of the title pointing to a reversal in time.



This album also includes the bonus track Between, a gentle, beautifully ethereal work which captures a kind of otherworldly essence of the harp completely without sentimentalism.



TRACK LISTING



Rumpelstiltskin Suite
1. I. The Idle Boast 4'02
2. II. Straw into Gold 3'55
3. III. Wedding and Coronation 8'40
4. IV. Guessing Games 3'06
5. V. Rumpelstiltskin Alone 4'01
6. VI. Rumpelstiltskin's Last Dance 3'53
BCMG • Martyn Brabbins conductor



Cat's-Eye
7. [bar 1] 0'57
8. [bar 28] 2'33
9. [bar 90] 5'15
10. [bar 163] 4'43
11. [bar 274] 1'08
12. [bar 300] 3'56
13. [bar 428] 5'22
BCMG • Martyn Brabbins conductor



14. April\March 23'17
BCMG • Martyn Brabbins conductor



Between (Bonus download only track - details in booklet) 5'42
Anne Denholm, harp


---
NMC Recordings are distributed in Australia by
Rockian Trading, P.O.Box 44, Briar Hill, Vic, 3088, Australia
Telephone (03) 9432 4149 ~ Facsimile (03) 9444 6879