CHINEKE! ORCHESTRA : SPARK CATCHERS

Chineke! Orchestra & Chorus
Roderick Williams, baritone - Tai Murray, violin - Chi-chi Nwanoku, double bass
Isata Kanneh-Mason, piano - Kevin John Edusei, conductor
Wayne Marshall, conductor - Anthony Parnther, conductor



NMC D250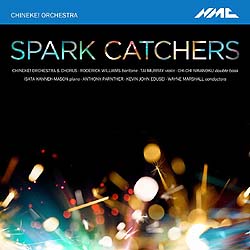 • Chineke! was founded in 2015 by the double bass player, Chi-chi Nwanoku OBE, to provide career opportunities for young Black and Minority Ethnic (BME) classical musicians in the UK and Europe. Chineke!'s mission is: 'Championing change and celebrating diversity in classical music.'



The Chineke! Orchestra, the Foundation's flagship ensemble, works closely with its sister ensemble, the Chineke! Junior Orchestra, a youth orchestra of BME players aged between 11 and 18, with senior players acting as mentors, teachers and role models to the young musicians.



In 2017, the Chineke! Orchestra made its BBC Proms debut at the Royal Albert Hall in August and performed at many other leading festivals throughout England, all to great critical acclaim. Chineke! has released two CDs over the past year with more planned in 2018 and 2019.



The Chineke! Ensemble comprises the principal players of the Chineke! Orchestra. It has performed in Manchester in 2017 and made its debut at Wigmore Hall in 2018 before going on to play at the Cheltenham and Ryedale festivals. In the autumn of 2018 it will perform at the Tonbridge Music Club, Wimbledon International Festival, Cambrige Music Festival and at St George's Bristol.



Chineke!'s founder, Chi-chi Nwanoku OBE, says: "My aim is to create a space where BME musicians can walk on stage and know that they belong, in every sense of the word. If even one BME child feels that their colour is getting in the way of their musical ambitions, then I hope to inspire them, give them a platform, and show them that music, of whatever kind, is for all people."



In the words of Sir Simon Rattle: "Chineke! is not only an exciting idea but a profoundly necessary one. The kind of idea which is so obvious that you wonder why it is not already in place. The kind of idea which could deepen and enrich classical music in the UK for generations. What a thrilling prospect!"



TRACK LISTING



Wallen, Errollyn : Concerto Grosso 15:45
• Tai Murray (violin),
• Isata Kanneh-Mason (piano),
• Chi-chi Nwanoku (double bass),
• Chineke! Orchestra & Chorus, Anthony Parnther
1. I. 5:08
2. II. 6:23
3. III. 1:09
4. IV. 3:05



5. Wilson, James: The Green Fuse 11:03
• Chineke! Orchestra, Anthony Parnther



6. Kidane, Daniel : Dream Song (Live) 9:14
• Roderick Williams (baritone)
• Chineke! Orchestra, Chineke! Chorus, Anthony Parnther



7. Kendall, Hannah : The Spark Catcher (Live) 9:37
• Chineke! Orchestra, Kevin John Edusei



8. Herbert, Phillip : Elegy (In Memoriam Stephen Lawrence) 6:58
• Chineke! Orchestra, Anthony Parnther



9. Joseph, Julian : Carry That Sound 9:36
• Chineke! Orchestra, Wayne Marshall
---
NMC Recordings are distributed in Australia by
Rockian Trading, P.O.Box 44, Briar Hill, Vic, 3088, Australia
Telephone (03) 9432 4149 ~ Facsimile (03) 9444 6879