David Fennessy: Panopticon

Munich Chamber Orchestra
Ensemble Modern
Johannes Kalitzke conductor
Psappha
Hebrides Ensemble



NMC D244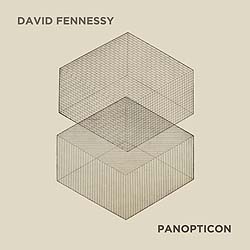 • 28 February: World Premiere of David Fennessy's Conquest of the Useless. New Music Dublin, National Concert Hall.



• NMC's Debut Discs are musical calling cards, crucial for gifted composers in the early stages of their careers and giving them the opportunity to release a fi rst full portrait album of their work. Debut Discs has to date supported 16 releases since 2012.



David Fennessy grew up in Maynooth, Co Kildare, playing electric guitar in rock bands. He became interested in composition whilst studying for his undergraduate degree at the Dublin College of Music, and in 1998 he moved to Glasgow to study for his Masters Degree at the Royal Conservatoire of Scotland with James MacMillan. He is now a composition lecturer there himself.



He has been described as a 'composer of deep sensitivity, style and a knack for doing imaginative things with old samples' and this album displays a broad range of Fennessy's music, from purely acoustic chamber works to pieces for large ensembles involving electronics. The title track Panopticon is scored for cimbalon and string ensemble; the name refers to an 18th-century prison design in which cells were arranged around a circular central chamber from where a governor could keep an eye on prisoners at all times. Fennessy's Piano Trio features conversations from the late 1960s between John Cage and Morton Feldman, the music punctuating the extravagant gaps in the conversation. 13 Factories is performed here by Ensemble Modern under Johannes Kalitzke and includes electronics plus 4 hand-held speakers playing the sounds of old looms traditionally used in the Outer Hebrides to produce Harris Tweed. Hirta Rounds conjures up the eerie atmosphere of an abandoned island. Hirta is situated on remote St Kilda archipelago on the West Coast of Scotland whose last inhabitants were evacuated in the 1930s.



TRACK LISTING



1. Panopticon 17'30
Psappha, Hebrides Ensemble



2. Piano Trio (Music for the pauses in a conversation
between John Cage and Morton Feldman) 19'45
Psappha



13 Factories
3. Intro 1'45
4. Rehearsal Letter B 2'30
5. Rehearsal Letter E 1'21
6. Rehearsal Letter G 2'14
7. Rehearsal Letter J 1'02
8. Rehearsal Letter K 2'59
9. Rehearsal Letter Q 0'55
10. Rehearsal Letter R 4'44
Ensemble Modern/Johannes Kalitzke



11. Hirta Rounds 13'37
Münchener Kammerorchester
---
NMC Recordings are distributed in Australia by
Rockian Trading, P.O.Box 44, Briar Hill, Vic, 3088, Australia
Telephone (03) 9432 4149 ~ Facsimile (03) 9444 6879