SUPERTRAMP
BREAKFAST IN AMERICA
MFSL 1-471
180 gram Audiophile LP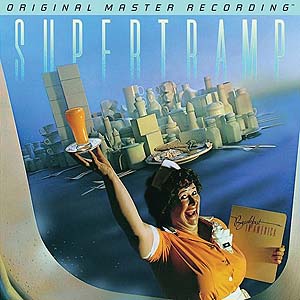 A Numbered, Limited-Edition, 180-gram LP, Sourced from Original Master Tapes.



Supertramp's 1979 blockbuster features catchy hooks, rhapsodic melodies, symphonic bluster, meticulous production: Breakfast in America includes "The Logical Song" and "Take the Long Way Home"



Supertramp's Breakfast in America has it all: illustrious artwork, sing-a-long hooks, contagious melodies, symphonic bluster, rhapsodic thrust, signature Wurlitzer electric piano sounds and two Grammy® Awards, including one for Best Engineered Album, more than 20 million copies sold and four Billboard hit singles that continue to dominate radio airplay today. Every aspect of the chart-topping art-rock set screams blockbuster, not the least of which is the production, the result of painstaking studio setups and months of mixing. Now, you can experience the sonic brilliance in unprecedented clarity on Mobile Fidelity's definitive analog reissue.



Mastered from the original master tapes and pressed at RTI, this numbered-edition 180g LP wrings out the record's dynamics, colors, and tones in all their full-range glory. Absent artificial ceilings, Breakfast in America unfolds with an expansiveness and radiance that parallels the vibrancy of its iconic New York-themed cover. Crucial traits such as imaging, separation, balance, transients, and openness achieve near-epic levels of realism and presence. Songs unfold and breathe on mammoth soundstages that put the effort's legendary production - and stellar playing - into proper perspective. The 1979 set has been reissued multiple times in the past, but it's never sounded so engaging, lifelike, or entertaining. If you think you know the record backwards and forwards, wait until you hear this version.



Indeed, aside from the undeniably catchy nature of the ten tracks, fun remains the most central element of Breakfast in America. The band even titled the record to fall in line with the overall joyful feeling of the material. About the latter: Few late 1970s rock albums feature a more cohesive, harmony-drenched parade of stunningly executed, wondrously arranged works. The collective offspring of members Rick Davies and Roger Hodgson, each tune reflects the creative pulses of each musician, with the resultant contrasts lending to their appeal. Davies' penchant for grittier, bluesy strands blends with Hodgson's witty, pop-leaning techniques. The combination proves unstoppable.



Home to a quartet of commercial staples - "The Logical Song," "Goodbye Stranger," "Take the Long Way Home," and the title track - Breakfast in America teems with arena-sized drama, meticulous craftsmanship, and mesmerizing refrains. Shrewd lyrical turns abound, whether on the phonetic, adjective-stacked "The Logical Song," life-in-America portrait "Child of Vision," or move-to-L.A. saga "Gone Hollywood." U.S. references also dot the smash title track, which reflects the glib humor, romantic fantasies, and pop culture permeating the record.



Breakfast in America also retains its vitality because of its expert instrumentation and placement. Deemed as "a textbook-perfect album of post-Beatles, keyboard-centered English art rock that strikes the shrewdest possible balance between quasi-symphonic classicism and rock & roll" by Rolling Stone shortly after its release, the record serves as a blueprint of reference-setting production and mixing. Check the scorching guitar outro on "Goodbye Stranger," gospel accents on "Lord Is It Mine," saxophone lines on &"Take the Long Way Home," or chemistry of the choruses on basically every piece here. It's enough to make one long for the 70s again.



Side A.
1. Gone Hollywood
2. The Logical Song
3. Goodbye Stranger
4. Breakfast in America
5. Oh Darling



Side B.
1. Take the Long Way Home
2. Lord Is It Mine
3. Just Another Nervous Wreck
4. Casual Conversations
5. Child of Vision
---




---

Mobile Fidelity Sound Lab
recordings are distributed in Australia by
Rockian Trading