DIRE STRAITS
COMMUNIQUÉ
MFSL 2-467
180 gram 45rpm Double Audiophile LP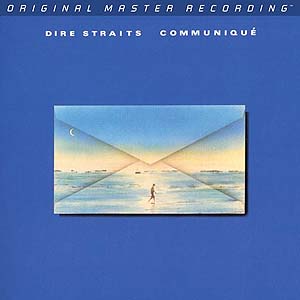 A Numbered, Limited-Edition, 180-gram LP, Sourced from Original Master Tapes.



Dire Straits' second album released in 1979 delivers more smooth, effortless, relaxed, tuneful, and deceivingly simple tunes. Dire Straits' Communiqué teems with technical perfectionism, southern-styled grooves, and low-key blues.



With Mobile Fidelity reference-level detail, depth, soundstaging, balance, and presence, Communiqué has never sounded better.



With Mark Knopfler's mesmerizing textures, intricate lines, and crisp tones paired with engaging storytelling and tight rhythms, every song is an example of understated virtuosity.



The performances on Dire Straits' Communiqué are so smooth and effortless, they were originally criticized for replicating the blueprints of the band's breakout debut. Time, however, has a way of changing perspectives and exposing the truth. More than 35 years after its original release in June 1979, Communiqué rightfully takes its place as the group's most underrated record - a nine-track set spiked with engaging storytelling, relaxed vibes, and deceiving simplicity.



Mastered from the original master tapes and pressed at RTI, Mobile Fidelity's 180g 45RPM 2LP set of Communiqué elevates Dire Straits' sophomore album to an even higher plane. Recorded in the Bahamas by Muscle Shoals veterans Barry Beckett and Jerry Wexler, the songs benefit from a laidback approach that makes guitarist/vocalist Mark Knopfler and company's stellar playing seem even more fluent - particularly when experienced on this collector's 45RPM version, on which the wider grooves allow for more detail retrieval and deeper musical insight.



Knopfler's mesmerizing guitar textures and composed vocals appear as if they're right in front of you, holding court amidst expansive soundstages and deep-black backgrounds. Details, imaging, and presence are on a level associated with the finest audiophile recordings. You'll be hard-pressed to find another LP with cleaner, pinpoint-accurate tones. Mobile Fidelity's LP also brings into transparent view Knopfler's seemingly perfect intricate lines as well as the simpatico accompaniment from his band mates. Whole, lively, and balanced, the bass and drums arrive with a solidity rarely heard on albums of this era. Communiqué has truly never sounded better.



Of course, the audiophile sonics mean little if the artistic content is lacking. Needless to say, Dire Straits' technical perfectionism and creative elan prevail throughout. Knopfler's penchant for sketching cynical characters is further developed on moody tracks like "Where Do You Think You're Going" and "News," while Wexler's presence at the boards ensures the band keeps the rhythms extra tight. The quartet's low-key blues and swampy, Southern-styled grooves turn every song into an exercise in understated virtuosity.



Refusing to give into excess, magnetic tunes such as "Lady Writer" and "Angel of Mercy" split a fine line between insinuating and insisting. The group shows off a combination of control, virtuosity, and tunefulness that harkens back to rock'n'roll's classic period while also pointing the way ahead. Need indisputable evidence of Dire Straits' compositional strengths? Cue up the closing "Follow Me Home" on this pressing and get lost amidst the peacefulness of the gentle surf and chirping crickets that frame the song. Heavenly.



The sequence serves as additional proof that Communiqué remains one of the best-sounding rock records ever made.



Side A:
1. Once Upon A Time In The West
2. News
Side B:
1. Where Do You Think You're Going?
2. Communiqué
Side C:
1. Lady Writer
2. Angel Of Mercy
3. Portobello Belle
Side D:
1. Single-Handed Sailor



---




---

Mobile Fidelity Sound Lab
recordings are distributed in Australia by
Rockian Trading