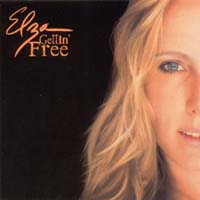 Gettin' Free
•
ELZA

BEPOP RECORDS
BEPOP-1019



Elza is as unique as her name. She captivates her audience with her southern charm, her absolutely mesmerizing voice and her soulful, often playful, sound. Her disarming combination of strength and vulnerability can be contributed to her unusual childhood and life experiences. Elza's father, a German abstract mathematician and musician, insisted she learnt to read music before learning to read words, and with that her love of music was born. She grew up between her father in Frankfurt, Germany and her mother on a tea farm just outside of Charleston, SC. It was in South Carolina that she picked up the soulful singing style of the low-country and at age 14 began playing guitar and writing songs. She was also inspired by the innate storytelling talents of her Grandmother who was a "flapper" and painter in NYC during the roaring 20's and with that her love for adventure was born. After graduating high school she moved to New York City on a scholarship to train her voice classically, but soon returned to her first love as a singer-songwriter.



Two time recipient of the ASCAP PLUS Award and 1st place winner of the 2006 International Broadjam Songwriting Contest, Elza's music has been featured on numerous network series including the WB's Smallville. She has graced such stages as the legendary Bluebird Café in Nashville, Winterfolk Festival in Toronto, The Sweetwater in San Francisco, The Towne Crier, Makor, the Bitter End and many others in New York, and The Mint in Los Angeles to name a few. Elza is one of those special artists that touches you with the first note and holds you spellbound until the last.



The CD was produced by Jeff Eyrich (Dave's True Story, Bistro Blue) and recorded primarily at Bennett Studios in Englewood NJ.


Program
01. Gettin' Free 4:01
02. This is Love 3:34
03. My Romeo 3:59
04. Boys, Boys, Boys 3:26
05. Heal 4:21
06. La La La 4:24
07. Charleston Corner 3:36
08. Big Cup 3:32
09. Wide Open 4:20
10. Cheap Apple Wine 3:04
11. I Wanna Live 4:22
12. You & Me Now 3:51
---
BePop Records distributed in Australia by Rockian Trading