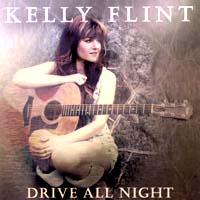 DRIVE ALL NIGHT
•
KELLY FLINT

BEPOP RECORDS
BEPOP-1018



Through five albums and countless gigs, Kelly Flint has been the singer, actress and interpreter of the romantic minefield generated by the compositions of songwriter/guitarist David Cantor for the band, Dave's True Story. Anyone familiar with Dave's True Story will immediately recognize Ms. Flint. Her style is a femme-fatale's alto, unornamented except for a judiciously applied burr which she uses like a drummer uses his brushes.



Drive All Night is the first solo CD from Kelly Flint, singer for this hipster, lounge-noir band and features songs played and written by Kelly (with the exception of "Story In Your Eyes" by the Moody Blues). It is a remarkable departure from the jazzier sound of Dave's True Story. Whereas Dave's True Story works in dense, cinematic strokes, the songs of Kelly's solo album, "Drive All Night" are lean and forthright. They are the "indie" movie by comparison and she wastes no time in establishing her turf. The songs are built around her acoustic guitar and the arrangements, whether hushed or assertive, are all hewn with a dark urgency. The result is music that is folky in texture only.



"Her melodies are beautiful one moment, then, in the next, as pop as anything you might ever hear. And sung with that voice! She is engaged with the world and her take on it is truly unusual and insightful. Though wry and funny at times, her words come from deep places, and she finds the emotional truth in the everyday event, the heartbreaking core in simple acts and moments."



Drive All Night was produced by Jeff Eyrich.


Program
01. Blood and Bone 3:17
02. Drive All Night 3:42
03. Story In Your Eyes 2:53
04. The Letter, 1974 3:42
05. Cartoon 3:09
06. Never Unless 2:46
07. Song To My Soldier 3:50
08. Waiting For The Weather 3:20
09. Are You Blue 1:36
10. Snow Angels 3:59
11. Deep Freeze 3:21
12. Bottle Rocket (The Truth Hurts) 3:19
13. Marliena 2:55
14. Alchemy 4:20
---
BePop Records distributed in Australia by Rockian Trading