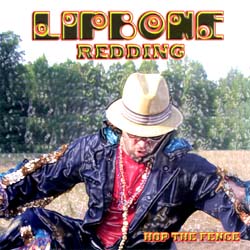 HOP THE FENCE
•
LIPBONE REDDING

BEPOP RECORDS
BEPOP-1017



Lipbone Redding has made a career of not only vocalizing the sounds of horns, keyboards, drums and bass, but also giving voice to surreal characters and beautiful love songs. He's the Jazz, Blues, Jam and Soul version of a human beatbox … make that a Human Sweet Box. With great charm and upbeat, champagne style Lipbone has surpassed what some might assume to be a gimmick and is in hot pursuit of full-fledged musical artistry. Taking a stylistic cue from Tom Waits, Curtis Mayfield, and Dr.John, Lipbone propels his deeply personal music a step further with all the noisy talents that have been bestowed upon him.



During the last half of 2006, team Lipbone worked diligently to put together this new record. The trio of Jeff Eyrich (Dave's True Story), Rich Zukor (The Frank and Joe Show) and Lipbone Redding has come to be known upon the bandstand as "THE LIPBONE ORCHESTRA." An apt descrition, The LipBone Orchestra has been performing full time in clubs around NYC and the Northeast. At the same time, Lipbone has been collaborating with Bill T. Jones/Arnie Zane Dance Company to create the music Chapel/Chapter, one of the most lauded modern dance performances of 2006/2007. The New York Times called this music "…Remarkable!"



HOP THE FENCE was recorded totally live, every note played by a human being. It was produced by Jeff Eyrich and engineered by Steve Rossiter at the cozy but potent Axis Sound in NYC. HOP THE FENCE is a testament to the power of doing things the old-fashioned way: three musicians in a studio playing music they love. The record probably could have been recordeded in two days if Rich hadn't told so many jokes, but hey, its hard to make mistakes when you are having so much fun!


Program
01. Dogs Of Santiago (short version) 3:32
02. Sixteen Tons 5:21
03. Follow The Money 5:10
04. Love Is The Answer 5:17
05. Hollywood & Vine 4:14
06. Old Flame 3:25
07. Tuscaloosa Suntan 3:46
08. Picnic Basket 3:40
09. Closing Time 5:25
10. Indian Rose 8:58
11. Travelin' Light 3:54
12. Dogs Of Santiago (long version) 6:59
---
BePop Records distributed in Australia by Rockian Trading