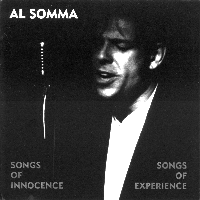 AL SOMMA



SONGS OF INNOCENCE
SONGS OF EXPERIENCE

BEPOP RECORDS
BEPOP-1012



The idea came three years ago after a recording session at Peter Kyle's (5th House) studio in Brooklyn. I was a little stressed and started talking melody on the drive back to the city with pianist, Larry Ham and drummer Charlie Kohlmeyer. I began singing Berlin's Isn't This A Lovely Day. I'd been in love with innocent melodies and had sung many of them with King Vamp, a band I'd started in 1993. We'd done Tin Pan Alley and some A and B-side 50's stuff - Hot Lips Page and the like. Larry said, "Hey, I love that tune, nobody ever does it." and suggested we record it next time - a time which came three years later.

During that time a concept was forming. I knew of William Blake's collection of poems he called "Songs of innocence, Songs of Experience" and it sparked an idea. The title seemed right for an eclectic mix of standards. So I gathered songs from Berlin to Monk to try and tell a story of the heart. . . .
- Al Somma



Program

1. They All Laughed - G. Gershwin, I. Gershwin 3:37
2. The Very Thought Of You - R. Noble 3.18
3. I Fall In Love Too Easily - S. Cahn, J. Styne 4:08
4. I'm Beginning To See The Light - E. Ellington, D. George, J. Hodges, H. James 2:32
5. 'Round Midnight - T. Monk, B. Hanighen, W. Cootie 4:07
6. Isn't This A Lovely Day - /. Berlin 3:27
7. This Will Make You Laugh - /. Higgenbotham 5:47
8. A Kiss TO Build A Dream On - 0. Hammerstein, B. Kalmar, H. Ruby 3:24
9. Lush Life - B. Strayhorn 6:04
10. That Old Feeling - L. Brown, S. Fain 3:43
11. Walkin' My Baby Back Home - F. Ahlert, R. Turk 2:22
12. Two Sleepy People - H. Carmichael, F. Loesser 5:55

All songs arranged by Larry Ham
except "They All Laughed" arranged by Andy Ezrin,
and "Two Sleepy People" arranged by Matt Munisteri and Al Somma.



---
BePop Records distributed in Australia by Rockian Trading