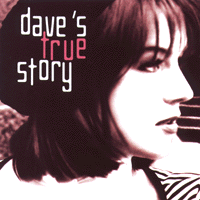 dave's true story
(2002 edition)

BEPOP RECORDS
BEPOP-1011



• The CD has been meticulously re-mastered from the original mixes by Scott Hull (of Steely Dan fame) includes 4 previously unreleased bonus tracks, and re-designed artwork.
• The CD has been out of print for 3 years. During it's sabbatical, it was spotted by a fan selling on E-Bay for $65.
• The original version of the CD was never in distribution and only available at shows, at Hear Music Stores, and briefly online. The original CD sold out the 10,000 copies that were pressed.
• Dave's True Story won the prestigious Kerrville New Music Award in 1994.
• They have received both widespread and local support from audiences and DJ's such as Vin Scelsa, Jonathan Schwartz and Rita Houston.
• They have received extensive and consistent raves by the press, including a half page article in the Sunday New York Times April 30, 2000.
• In 1998 and 2000 respectively, Dave's True Story went on to record and release two CDs for the Chesky label, both of which sold well and worldwide. (Between their three albums DTS have sold upwards of 50,000 units)
• Dave's True Story had a minor hit in Holland with their song "Ned's Big Dutch Wife" resulting in their sold-out performance at The Paradiso Club in Amsterdam. Their version of Lou Reed's "Walk On the Wild Side" was stocked in jukeboxes and spun by DJ's throughout Europe.
• Katarina Witt, upon hearing their music in Germany, asked Dave's True Story to be the band for her television special, "Diva's on Ice" which aired January 6th, 2001 on NBC. In addition, they recorded a version of "Fever" which she skated to on the Today Show and in skating competitions and exhibitions worldwide. The track is one of the bonus tracks on this CD.
• They have been featured on two best-selling compilation records: 'Next Generation Swing' (Simitar Records) which SoundScanned over 320,000 copies and 'For the Love Of Jazz' (NARM Recordings) which Billboard Magazine named a top 10 Contemporary Jazz Album of 2000.
• The Pottery Barn has featured Dave's True Story on two compilation records, noteworthy because they are the only "new" band featured in the company of such luminaries as Ella Fitzgerald, Louis Armstrong, BB King, Patti Page and Leon Redbone.
Program

1. Sequined Mermaid Dress
2. Can't Get You Out Of My System
3. Another Hit
4. Flexible Man
5. Crazy Eyes
6. Last Go Round
7. Sommes Bleues
8. Marisa
9. Nadine
10. Like A Rock
11. Mad About You
BONUS TRACKS
12. Joey
13. Fever
14. Blue Moon
15. Crazy Eyes - ver.02
---
BePop Records distributed in Australia by Rockian Trading