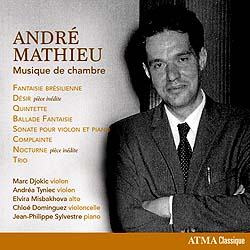 ANDRÉ MATHIEU (1929-1968)
Musique de chambre | Chamber Music


Marc Djokic, violin - Andréa Tyniec, violin
Elvira Misbakhova, viola - Chloé Dominguez, cello
Jean-Philippe Sylvestre, piano


ACD2 2784


André Mathieu: Musique de chambre includes two unpublished pieces by Mathieu (Désir and Nocturne) as well as his Trio, Quintet, and works for violin and piano - works composed between 1943 and 1953, when Mathieu had reached the peak of his fame and creativity despite being quite young.



Pianist Jean-Philippe Sylvestre is joined by sought-after musicians – Andréa Tyniec (violin), Marc Djokic (violin), Elvira Misbakhova (viola), and Chloé Dominguez (cello) for this album dedicated to one of the leading figures of the Canadian classical music world.



Early on, Mathieu's chamber music featured the violin as his alter ego. Later, he expanded his sonic palette and composed his two masterpieces, the Trio of 1949 and the Quintet of 1953.



Jean-Philippe Sylvestre has recorded concertos by Mathieu and Rachmaninoff for ATMA Classique with the Orchestre Métropolitain de Montréal and Alain Trudel. He recently performed with the Quebec Symphony Orchestra, at the Bourgie Hall of the Montreal Museum of Fine Arts, the Montreal Place des Arts, the Auditorium Saint-Pierre-des-Cuisines in Toulouse, the Salle Cortot in Paris, and the Centre for Fine Arts in Brussels.



Marc Djokic is a Canadian violinist and winner of the 2017-2018 Prix Goyer. Among other distinctions he is a Prix Opus laureate and former Canada Council Instrument Bank recipient. Djokic is concertmaster of the McGill Chamber Orchestra.



Acclaimed for her "exceptional musicality and intensity" (La Presse), violinist Andréa Tyniec has created a versatile performance career as a soloist and as a collaborator with dance, theatre and film. She is recognized as a promoter of contemporary music.



Elvira Misbakhova is currently assistant principal viola for the Metropolitain Orchestra of Montreal, Trois-Rivières and Longueuil Symphony Orchestras as well as principal viola for the Nouvelle Génération chamber orchestra.



Solo cellist with the McGill Chamber Orchestra and the Ensemble contemporain de Montréal +, Chloé Dominguez is an ardent performer of contemporary music and, has premiered many new works as a soloist.


André Mathieu (1929-1968)



1. Fantaisie brésilienne [1:34]
[ Marc Djokic violon / violin, Jean-Philippe Sylvestre piano ]



2. Désir pièce inédite [2:15]
[ Andréa Tyniec violon / violin, Jean-Philippe Sylvestre piano ]



Quintette
3. I. Allegro [6:26]
4. II. Allegro con fuoco [7:01]
[ Marc Djokic violon 1 / violin, Andréa Tyniec violon 2 / violin,
Elvira Misbakhova alto / viola, Chloé Dominguez violoncelle / cello,
Jean-Philippe Sylvestre piano ]



5. Ballade-Fantaisie [5:33]
[ Marc Djokic violon / violin, Jean-Philippe Sylvestre piano ]



Sonate pour violon et piano
6. I. Allegro presto [4:14]
7. II. Largo [5:40]
8. III. Allegretto [2:26]
[ Andréa Tyniec violon / violin, Jean-Philippe Sylvestre piano ]



9. Complainte [2:49]
[ Andréa Tyniec violon / violin, Jean-Philippe Sylvestre piano ]



10. Nocturne pièce inédite [5:13]
[ Andréa Tyniec violon / violin, Jean-Philippe Sylvestre piano ]



Trio
11. I. Andante [5:35]
12. II. Andante, allegro con fuoco [8:05]
[ Marc Djokic violon / violin, Chloé Dominguez violoncelle / cello,
Jean-Philippe Sylvestre piano ]
---
ATMA Classique is distributed in Australia by Rockian Trading
PO Box 44, Briar Hill, Vic, 3088, Australia
Telephone +61 (0)3 9432 4149 ~ Facsimile +61 (0)3 9444 6879
---