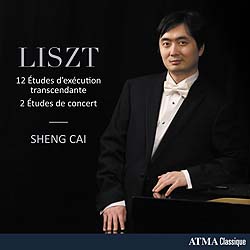 FRANZ LISZT
12 Etudes d'exécution transcendante, S139/R2b
2 Etudes de concert, S145

Sheng Cai, piano


ACD2 2783


For his debut album at ATMA Classique, pianist Sheng Cai tackles Franz Liszt's Etudes d'exécution transcendante, pieces that represent a pinnacle of the piano repertoire. The composer began drafting these études in 1824, when he was only 13 years old, and continued to revise them until the definitive version was published in 1852.



Recently described as "the most electrifying soloist of the 2017 season" by South Coast Today (Massachusetts), Canadian pianist Sheng Cai has embraced the romantic virtuoso keyboard tradition. His performances of major piano repertoire have touched audiences and won the praise of critics on three continents.



In North American solo recitals, Sheng Cai has been heard in many prestigious venues, such as Steinway Hall in New York, Jordan Hall in Boston, the Cleveland Play House, the Modern Art Museum in Fort Worth, the Alys Stephens Center in Birmingham, CBC's Glenn Gould Studio in Toronto, and other distinguished venues in Stratford, Elora, Montréal, and Winnipeg.



Born in China, Sheng studied at Shanghai Conservatory of Music and was a top prize winner at the 1998 National Competition. The following year, his family immigrated to Canada where he began study at the Royal Conservatory of Music in Toronto. Sheng Cai earned his Bachelor of Music Degree under full scholarship at New England Conservatory in Boston. His most important teachers include legendary pianists Anton Kuerti and Russell Sherman.


Franz Liszt (1811-1886)



12 Etudes d'exécution transcendante S139/R2b (1852)
1. No. 1 "Preludio" in C Major
2. No. 2 [no title] in A Minor
3. No. 3 "Paysage" in F Major
4. No. 4 "Mazeppa" in D Minor
5. No. 5 "Feux Follets" in B-Flat Major
6. No. 6 "Vision" in G Minor
7. No. 7 "Eroica" in E-Flat Major
8. No. 8 "Wilde Jagd" in C Minor
9. No. 9 "Ricordanza" in A-Flat Major
10. No. 10 [no title but nicknamed "Appassionata"] in F Minor
11. No. 11 "Harmonies du soir" in D-Flat Major
12. No. 12 "Chasse-neige" in B Minor



2 Etudes de concert, S145/R6 (1862)
13. No. 1. Waldesrauschen (Forest Murmurs)
14. No. 2. Gnomenreigen (Dance of the Gnomes)

---
ATMA Classique is distributed in Australia by Rockian Trading
PO Box 44, Briar Hill, Vic, 3088, Australia
Telephone +61 (0)3 9432 4149 ~ Facsimile +61 (0)3 9444 6879
---