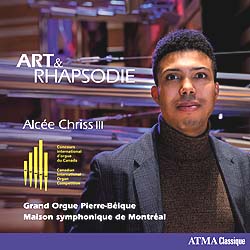 ART & RHAPSODIE
J.S.Bach | Wilcock | Rachmaninov | Tatum | Chriss | Youmans | Guillou | Demessieux | Wagner


Alcée Chriss III
Grand Orgue Pierre-Béique
Maison symphonique, Montréal



ACD2 2782


Chriss was a featured "Rising Star" at the 2014 national convention of the American Guild of Organists in Boston. He is regularly featured at such events as the Atlanta International Organ Festival, and has performed at the Festival Myrelingues in Lyon, France.



In 2015, Chriss began his doctorate degree at McGill University where he studies with Hans-Ola Ericsson. In addition to his organ and harpsichord studies, he is active as a conductor and jazz pianist.



Chriss also continues his international volunteer work through a music immersion course in Lyon's Duchère district.



First Prize winner at the 2017 Concours international d'orgue du Canada (Canadian International Organ Competition), Alcée Chriss III has been celebrated for his "grace, skill and abundant proficiency" (Assist News, Albuquerque). He has performed throughout the United States and France and is emerging as an outstanding young concert artist of virtuosity and versatility.



Alcée Chriss III's debut album comprises works by Bach, Whitlock, and Rachmaninoff, as well as a number of distinctive selections including an arrangement of Wagner's The Flight of the Valkyries, and works by French composers Jean Guillou and Jeanne Demessieux. Chriss also performs his own arrangements for organ of jazz standards such as Tea for Two and Rhapsody after Art by the legendary Art Tatum.



Chriss has won top prizes at international and national competitions, including First Prize and Audience Prize at the Miami International Organ Competition (2014), the Fort Wayne National Organ Competition (2016), the Albert Schweitzer National Organ Competition in Wethersfield (2013), and the Quimby Regional Competition for Young Organists in Austin (2013).


Johann Sebastian Bach (1685-1750) / Antonio Vivaldi (1678-1741)
Concerto pour orgue en ré mineur / Organ Concerto in D Minor, BWV 596
1. I. [Allegro] ; Grave ; Fuge [4:55]
2. II. Largo e spiccato [2:34]
3. III. [Allegro] [3:10]



Percy Whitlock (1903-1946)
4. Fantaisie Chorale en ré bémol majeur [13:56]
Fantasie Choral in D-Flat Major



Sergei Rachmaninov (1873-1943)
Transcription pour orgue par / Transcribed for organ by Alcée Chriss
5. Danses symphonique, op. 45 : I. Non-Allegro [14:03]
Symphonic Dances, Op. 45: I. Non-Allegro



Art Tatum (1909-1956) / Alcée Chriss (Né en / b. 1992)
6. Rhapsody after Art [6:18]



Alcée Chriss
7. Improvisation I : Réflexion sur des pas de géant [4:51]



Vincent Youmans (1898-1946) / Art Tatum / Alcée Chriss
8. Tea for Two [3:42]



Alcée Chriss
9. Improvisation II : Hommage à Jean Guillou [2:41]



Jean Guillou (1930-2019)
10. Toccata, Op.9 [8:55]



Jeanne Demessieux (1921-1968)
11. Étude no.4 : Sixtes [3:04]



Richard Wagner (1813-1883) (Arr: Alcée Chriss)
12. Die Walküre : « La chevauchée des Walkyries » de l'acte III [5:34]
"Ride of the Valkyries" from Act III
---
ATMA Classique is distributed in Australia by Rockian Trading
PO Box 44, Briar Hill, Vic, 3088, Australia
Telephone +61 (0)3 9432 4149 ~ Facsimile +61 (0)3 9444 6879
---