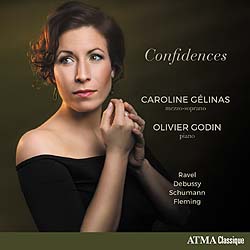 Confidences
Confessions
Ravel | Debussy | Schumann | Fleming

Caroline Gélinas, mezzo-soprano
Olivier Godin, piano


ACD2 2781


Named 2017-18 "Revelation Radio-Canada" in the classical category, French-Canadian mezzo-soprano Caroline Gélinas presents her first solo recital on the ATMA Classique label. Olivier Godin accompanies Gélinas in a program of French melodies by Ravel (Sheherazade), Debussy (Trois Chansons de Bilitis), German lieder by Robert Schumann (Gedichte der Konigin Maria Stuart), and The Confessions Stone, a song cycle by Canadian composer Robert Fleming.



Gélinas has received awards from the Stingray Rising Star program, the Hnatyshyn Foundation, the Fondation Jacqueline Desmarais, Jeunesses Musicales of Canada Foundation, and the Art Song Foundation of Canada.



On stage, Caroline Gélinas has sung the title role in Carmen with the Atelier Lyrique de l'Opéra de Montréal; Siebel in Faust with the Société d'Art Lyrique du Royaume; Nada in Svadba by Ana Sokolović with the Opéra de Montréal; Mercedes in Carmen with the Opéra de Québec; Die Schleppträgerin in Elektra, and Mère Jeanne in Dialogue des Carmélites with the Opéra de Montréal; and the Mother in Amahl and the Night Visitors with Atelier Lyrique de l'Opéra de Montréal.



A native of Montreal, Olivier Godin is pursuing a brilliant career as a pianist in Canada and abroad. He has been invited to perform in several international festivals including l'Académie Francis Poulenc and the Festival international Albert-Roussel in France, the Festival du Palazzetto Bru Zane in Venice, as well as on the airwaves of France-Musique and Radio-Canada. In Canada, he has performed at the Orford, Lanaudière, Lachine, Classica, and Parry Sound festivals.


Maurice Ravel (1875-1937)
Textes de Tristan Klingsor (né Arthur Léon Leclère) (1874-1966)
Schéhérazade, M. 41
1. I. Asie [9:50]
2. II. La Flûte enchantée [3:03]
3. III. L'Indifférent [3:44]



Claude Debussy (1862-1918)
Textes de Pierre Louÿs (1870-1925)
Trois Chansons de Bilitis
4. I. La Flûte de Pan [2:49]
5. II. La Chevelure [4:12]
6. III. Le Tombeau des Naïdes [2:47]



Robert Schumann (1810 - 1856)
Textes de Gisbert von Vincke (1813-1892)
Gedichte der Königin Maria Stuart, op. 135
(Poèmes de la reine Marie Stuart)
7. I. Abschied von Frankreich [1:41]
8. II. Nach der Geburt ihres Sohnes [1:25]
9. III. An die Königin Elisabeth [1:42]
10. IV. Abschied von der Welt [2:55]
11. V. Gebet [1:59]



Robert (James Berkeley) Fleming (1921 - 1976)
Poème d'Owen Dobson (1914 - 1983):
Beyond the Blues -- New Poems by American Negroes, (1962)
The Confession Stone (The Songs of Mary)
12. I. O my boy: Jesus my first and only son [2:14]
13. II. Don't pay attention to the old men in the temple [0:55]
14. III. Jesus, did you know that Lazarus is back? [1:53]
15. IV. There's a supper in Jerusalem tonight and I wish that I was there [1:47]
16. V. Cold and icy in my bed: laid on the ground of Jerusalem [3:37]
17. VI. Bring me those needles, Martha, I believe I'll knit Jesus a scarf [2:01]
18. VII. Everything is black, air, water, sun, moon, all light, dirt is black [4:52]
19. VIII. O my boy: Jesus my first and only son [2:23]
---
ATMA Classique is distributed in Australia by Rockian Trading
PO Box 44, Briar Hill, Vic, 3088, Australia
Telephone +61 (0)3 9432 4149 ~ Facsimile +61 (0)3 9444 6879
---