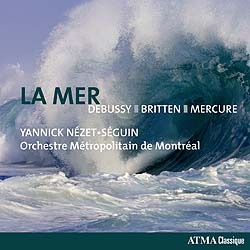 LA MER
DEBUSSY • BRITTEN • MERCURE

Yannick Nézet-Séguin
Orchestre Métropolitain du Grand Montréal


ACD2 2775
"Yannick Nézet-Séguin conducted his orchestra with disconcerting ease, fully blending with it into one harmonious whole." — Le Monde de la Musique


ATMA Classique have reissued its critically acclaimed recording of La Mer : Debussy, Britten, Mercure in stereo format. Recorded in 2007 by Yannick Nézet-Séguin and the Orchestre Métropolitain, La Mer garnered five stars from the French magazine Diapason, which declared, "What is immediately apparent in Yannick Nézet-Séguin's Debussy is its meticulousness, its almost chamber-music like transparency, and its subtle shading." Pierre Mercure's Kaléidoscope was also praised for its "formidably contrasted reading …Under Yannick Nézet-Séguin's baton, the work's constantly shifting emotional climate combines tragic grandeur with the most cheerful lightness."



La Mer revisits a live concert program performed by the Orchestre Métropolitain during its 2006-2007 season. "What genius Britten shows in his four interludes from the opera Peter Grimes. […] Nézet-Séguin recreates the exact context of each scene portrayed, from the depths of the ocean to the sky-shaking tempest. […] The young conductor ends with Debussy's La Mer, […] a very impressive performance, sometimes lyric, sometimes livid, always detailed." (La Presse) "It was pure delight to hear Pierre Mercure's Kaléidoscope played with such emotion." (The Gazette)



• In 2020, Yannick Nézet-Séguin succeeds James Levine to become the third Music Director of the Metropolitan Opera in New York.



• Nézet-Séguin is the Music Director of the Philadelphia Orchestra, a post he assumed in September 2012. He is also Music Director of the Rotterdam Philharmonic Orchestra, and Artistic Director and Principal Conductor of the Orchestre Métropolitain of Montreal.



• Since Yannick Nézet-Séguin assumed the role of the artistic director in 2000, the Orchestre Métropolitain's reputation for passion and its drive for excellence have continued to grow — at home and abroad.


CLAUDE DEBUSSY (1862-1918)
La Mer [ 24:26 ]
Trois esquisses symphoniques pour orchestre (1905)
1. De l'aube à midi sur la mer | Très lent [ 9:16 ]
2. Jeux de vagues | Allegro [ 6:46 ]
3. Dialogue du vent et de la mer | Animé et tumultueux [ 8:24 ]



BENJAMIN BRITTEN (1913-1976)
Four Sea Interludes (op.33a) (1945) [ 17:13 ]
4. Dawn [ 3:50 ]
5. Sunday Morning [ 3:46 ]
6. Moonlight [ 4:57 ]
7. Storm [ 4:40 ]



PIERRE MERCURE (1927-1966)
8. Kaléidoscope (1948) [ 10:53 ]



CLAUDE DEBUSSY
9. Prélude à l'après-midi d'un faune (1894) [ 11:16 ]
MARIE-ANDRÉE BENNY, FLÛTE | FLUTE
---
ATMA Classique is distributed in Australia by Rockian Trading
PO Box 44, Briar Hill, Vic, 3088, Australia
Telephone +61 (0)3 9432 4149 ~ Facsimile +61 (0)3 9444 6879
---