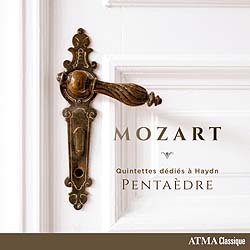 MOZART
Quintettes dédiés à Haydn

PENTAÈDRE


3 CD Set
ACD2 2756

Canadian wind ensemble Pentaèdre presents a new take on Mozart's six quartets dedicated to Haydn. These works are featured in new arrangements by Geoffrey Emerson and ensemble members Mathieu Lussier, Martin Carpentier, and Normand Forget and are presented in a deluxe boxed set of three discs.



"The dearth of real wind quintets by Mozart — owing to the fact that this grouping of instruments did not really become popular until after his death — prompted us to complete the work begun 40 years ago by the tireless Geoffrey Emerson," writes bassoonist Mathieu Lussier.



A unique ensemble on the Canadian musical landscape, Pentaèdre explores a diversified and original chamber music repertoire, developed in the tradition of music for winds. Founded in 1985, the five musicians forming the quintet are recognized for the talent, technique, precision and color they bring to their performances.



The past ten years have seen Pentaèdre inviting renowned guests artists such as tenors Christoph Prègardien and Rufus Muller, baritones Russell Braun and Phillip Addis, soprano Karina Gauvin, and pianists Naida Cole, David Jalbert and Iwan Llewelyn-Jones, while pursuing collaborations with chamber ensembles like Penderecki String Quartet, Molinari Quartet, the Berlin Philharmonic Wind Quintet and I Musici de Montréal. Pentaèdre has toured extensively across Canada, and also in the United States, Europe, and the Middle East.


MOZART
QUINTETTES D'APRÈS HAYDN

CD 1.
Quintette d'après le Quatuor no 14 en sol majeur
in G Major, K. 387 « Le printemps »
(Arrangement Geoffrey Emerson)
1. I. Allegro vivace assai 7:57
2. II. Menuetto, Allegretto 7:38
3. III. Andante cantabile 7:32
4. IV. Molto allegro 6:18

Quintette d'après le Quatuor no 15 en ré mineur
in D minor, K. 421
(Arrangement Martin Carpentier)
5. I. Allegro moderato 7:11
6. II. Andante 6:03
7. III. Menuetto, Allegretto 3:42
8. IV. Allegretto ma non troppo 7:57

CD 2.
Quintette d'après le Quatuor no 16 en mi bémol majeur
in E flat Major, K. 428
(Arrangement Mathieu Lussier)
1. I. Allegro non troppo 7:15
2. II. Andante con moto 8:55
3. III. Menuetto, Allegretto 5:43
4. IV. Allegro vivace 6:06

Quintette d'après le Quatuor no 17 en si bémol majeur
in B flat Major, K. 458 « La chasse »
(Arrangement Geoffrey Emerson)
5. I. Allegro vivace assai 8:51
6. II. Menuetto, Moderato 4:16
7. III. Adagio 7:11
8. IV. Allegro assai 6:55


CD 3.
Quintette d'après le Quatuor no 18 en la majeur
in A Major, K. 464
(Arrangement Normand Forget)
1. I. Allegro 7:01
2. II. Menuetto 5:27
3. III. Andante 10:47
4. IV. Allegro non troppo 6:30

Quintette d'après le Quatuor no 19 en do majeur
in C Major, K. 465 « Les dissonances »
(Arrangement Geoffrey Emerson)
5. I. Adagio-Allegro 11:24
6. II. Andante cantabile 7:25
7. III. Menuetto, Allegretto 4:51
8. IV. Allegro molto 8:13



Pentaèdre
Ariane Brisson, flûte, traversière / flute
Danièle Bourget, flûte, traversière / flute (K. 458 et 465)
Martin Carpentier, clarinette / clarinet
Normand Forget, hautbois / oboe
Mathieu Lussier, basson / bassoon
Louis-Philippe Marsolais, cor / horn
---
ATMA Classique is distributed in Australia by Rockian Trading
PO Box 44, Briar Hill, Vic, 3088, Australia
Telephone +61 (0)3 9432 4149 ~ Facsimile +61 (0)3 9444 6879
---