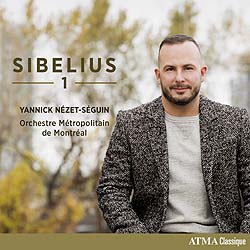 SIBELIUS 1

Orchestre Métropolitain de Montréal
Yannick Nezet-Séguin, direction


ACD2 2452


ATMA Classique is proud to announce the digital release of the first in a new series of recordings devoted to the symphonies of Jean Sibelius, with Yannick Nézet-Séguin at the helm of the Orchestre Métropolitain de Montréal.



Jean Sibelius wrote the first of his seven symphonies in 1898. The young Finnish composer already speaks in the unique voice he will develop in his later scores: the airy orchestration, the remarkable treatment of the lower registers, the long crescendos carefully crafted to build tension, and the superb wind solos.



Artistic director and Principal Conductor of the Orchestre Métropolitain since 2000, Yannick Nézet-Séguin is one of the most sought-after conductors in the world. In September 2018, he became the third music director of the Metropolitan Opera in New York. Music Director of the Philadelphia Orchestra since 2012, he was also appointed Honorary Conductor of the Rotterdam Philharmonic Orchestra and served as its Music Director from 2008 to 2018.



A major cultural ambassador for Quebec, the Orchestre Métropolitain de Montréal strives to promote symphonic music to as wide an audience as possible. Recipient of many national awards since its founding in 1981, the Orchestra owes its international fame to its twenty recordings, most of which have been recorded with ATMA Classique.



The Orchestre Métropolitain recently announced its first U.S. tour with Yannick Nézet-Séguin and superstar mezzo-soprano Joyce Di Donato. From November 19-24, 2019, they will perform a program of music by Mozart and Bruckner in Chicago, Ann Arbor, New York City (Carnegie Hall), and Philadelphia.


JEAN SIBELIUS(1865-1957)
SYMPHONIE N° 1 EN MI MINEUR | IN E MINOR, OP. 39



1. I. Andante, ma non troppo - Allegro energico [12:25]
2. II. Andante, ma non troppo lento [10:06]
3. III. Scherzo : Allegro [5:33]
4. IV. Finale (quasi una fantasia) : Andante - Allegro molto [13:01]O
---
ATMA Classique is distributed in Australia by Rockian Trading
PO Box 44, Briar Hill, Vic, 3088, Australia
Telephone +61 (0)3 9432 4149 ~ Facsimile +61 (0)3 9444 6879
---