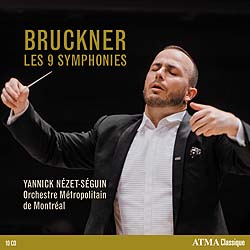 Bruckner • Les 9 Symphonies


Orchestre Métropolitain de Montréal
Yannick Nézet-Séguin, conductor



ACD2 2451


• With the release of a sumptuous boxed set of 10 discs, the Orchestre Métropolitain de Montréal directed by Yannick Nézet-Séguin completes a 10 year project to record the complete symphonies of Anton Bruckner. The First and Fifth Symphonies were recorded in 2017, and are being released for the first time as part of this set. These two symphonies will also be available individually, in digital format only.



• Recordings of Bruckner's symphonies by the OM/YNS team have won unanimous praise from critics worldwide, and have established Yannick Nézet-Séguin as a brilliant conductor of the composer's works. "This is a very beautiful Bruckner Fourth Symphony, by an increasingly interesting Bruckner conductor. It's refreshing to hear Bruckner's orchestral writing brought to life on so many levels, captured faithfully by the recording." — BBC Music Magazine



• In 2020, Yannick Nézet-Séguin succeeds James Levine to become the third Music Director of the Metropolitan Opera in New York.



• Nézet-Séguin is the Music Director of the Philadelphia Orchestra, a post he assumed in September 2012. He is also Music Director of the Rotterdam Philharmonic Orchestra, and Artistic Director and Principal Conductor of the Orchestre Métropolitain of Montreal.



• Since Yannick Nézet-Séguin assumed the role of the artistic director in 2000, the Orchestre Métropolitain's reputation for passion and its drive for excellence have continued to grow — at home and abroad.


Anton Bruckner (1824-1896)



CD 1. 1-4 Symphony No. 1 (WAB 101)
CD 2. 1-4 Symphony No. 2 (WAB 102)
CD 3. 1-4 Symphony No. 3 (WAB 103)
CD 4. 1-4 Symphony No. 4 (WAB 104)
CD 5. 1-4 Symphony No. 5 (WAB 105)
CD 6. 1-4 Symphony No. 6 (WAB 106)
CD 7. 1-4 Symphony No. 7 (WAB 107)
CD 8. 1-3 Symphony No. 8 (WAB 108)
CD 9. Symphony No. 8a (WAB 108) 1. 4th mov.
CD 10. 1-3 Symphony No. 9 (WAB 109)
---
ATMA Classique is distributed in Australia by Rockian Trading
PO Box 44, Briar Hill, Vic, 3088, Australia
Telephone +61 (0)3 9432 4149 ~ Facsimile +61 (0)3 9444 6879
---