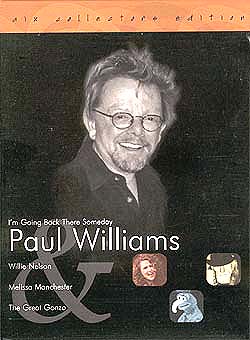 Paul Williams
I'm Going Back There Someday

AIX 84031
AIX Records Collectors Edition - 2 Double Sided Discs
with
Willie Nelson, vocals and guitar ~ Melissa Manchester, vocals and piano
Gonzo, vocals ~ Chris Caswell, piano and accordion
John Sanders, saxophone, flute and piano ~ Cliff Hugo, bass
John McEuen, banjo ~ John Lewis, drums and percussion
Laurence Juber, acoustic guitar ~ Mickey Raphael, harmonica
Comments from John McEuen - Co-Producer of the Project


As we set up the second day of recording with Paul for his DVD we knew we had a high mark to shoot for, as the first day was truly wonderful. We had captured 8 songs in one day, only moving ahead when we had it right, and knew this was an easier day in some regards. Only two songs, but the cast was a bit unusual on this December 4th.



The previous week, 4 songs with string quartet, piano and bass, one with the full band and the quartet, plus 3 with 'just' the band, had all gone down as a piece of American music history. America's great writer of love ballads, country hits, pop and film music had delivered his up close and personal version of his icon songs that are known worldwide. For the first time on 'tape', along with 5 cameras rolling, the personal side of this great writer and the heartfelt delivery of his magical words will be brought right to the audience. That was a great day … but now, a different assignment lay ahead.



To me, some of Paul's lyrics show their magic in their delivery more than in the reading of the words. …



DualDisc (CD Plus DVD-Audio) and 2-Sided DVD-Video Disc - Over 3 hours of Content

Live Performance and Studio Recording

96 kHz/24-Bits PCM Stereo Mix compatible with all DVD players

Compatible with DVD-Audio and DVD-Video players

One Side Compatible with CD Players

70 minute TV program on Paul Williams Life and Music

Photo Gallery

Extensive Artist Bios

Complete Session Video

Alternate 5.1 channel surround mixes "Stage" and "Audience" Point Of View

Extensive Interactive Liner Notes on the Performers, Session and Technical Info

Complete information on the DVD format, 5.1 channel surround and Setup Instructions

Disc One - DVD-Video
Side One [Light Blue Side Up] - Interactive Program
Side Two [Dark Blue Side Up] - Linear Program

Disc Two - DuaIDisc/CD-Audio and DVD-Audio
Side One [Green Side Up] - CD-Audio Tracks
Side Two [Red Side Up] - DVD-Audio Tracks
[DVD~Audio player required]
Song List


1. Rainbow Connection
2. You're Gone
3. We've Only Just Begun
4. Out in the Country
5. Rainy Days and Mondays
6. Crazy Loving You
7. When You Said Hello
8. I Won't Last A Day Without You
9. Love Dance
10. An Old Fashioned Love Song
11. It's All Been Said Before
12. I'm Going To Go Back There Someday
To assist everyone who purchases an AIX recording to obtain the best possible sound, the company includes an extensive series of system set-up and check tracks on every disc.