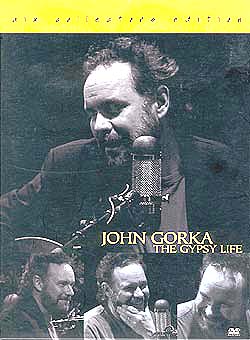 John Gorka
The Gypsy Life

AIX 83053 AIX Records Collectors Edition - 2 Double Sided Discs

with
John Gorka, guitar and vocals
Amilia K. Spicer, background vocals
Susan Werner, guitar, piano and background vocals
Russ Rentler, mandolin
Michael Manring, electric bass


John Gorka is one of my favorite artists. His songs and his voice are memorable, meaningful and introspective. His career spans over 30 years since his early days playing in college through 10 albums for Red House Records and Windham Hill. He even had a number of country hits and some music videos on CMT. But I don't think of his music as country … more folk. I've collected almost all of his recordings after being hooked by "Land of the Bottom Line" on a recommendation of my sister. But the sound of his recordings don't do justice to the magic of his resonant voice and his sincere approach to songs.

This HD Audio and Video Collectors Edition bring this artist and a few of his musician friends into your personal space to perform a private concert for you.



This project has 2 double sided discs, a 14 package booklet and deluxe packaging. The first disc is a DVD-Video disc with 14 gigabytes of audio and video. One side "the interactive side" contains a variety of audio/video media including: complete session videos, music video, interviews, behind-the-scenes footage, rehearsals, comprehensive explanation of the DVD format [including DVD-Audio, DVD-Video and DVD-ROM], digital encoding methodologies [AC-3, DTS, PCM and MLP], instructions on how to setup your 5.1 channel surround system, test tones/channel IDs checks and demonstrations comparing stereo mixes to 5.1 mixes and the other side "the linear PBS style side" contains a 2-hour combination of songs, intros etc. The second disc is a "DualDisc" that has a DVD-Audio side and a CD side. You can play the music at the ultimate fidelity level in surround or play the CD in your car or portable device. Everything you want to know about John Gorka is here … enjoy!
Mark Waldrep - AIX records



Shot in HiDef Video and presented in anamorphic video

Alternate 5.1 channel surround mixes "Stage" and "Audience" Point Of View

96 kHz/24 Bits PCM Stereo Mix compatible with all DVD players

Compatible with DVD-Audio and DVD-Video players

Music Videos

Chronology with photos

Photo Gallery

Extensive Artist Bios, discography, old photos

Complete Session Video

Live concert video shot at McCabes in Los Angeles

2-hour "PBS" style program on John Gorka

Rehearsal Footage

Extensive Interactive Liner Notes on the Performers, Session and Technical Info

Complete information on the DVD format, 5.1 channel surround and Setup Instructions

Disc One - DVD-Video
Side One [Light Blue Side Up] - Interactive Program
Side Two [Dark Blue Side Up] - Linear Program

Disc Two - DuaIDisc/CD-Audio and DVD-Audio
Side One [Green Side Up] - CD-Audio Tracks
Side Two [Red Side Up] - DVD-Audio Tracks
[DVD~Audio player required]
Song List


1. BRANCHING OUT
2. STRANGER WITH YOUR HAIR
3. LET THEM IN
4. MEAN STREAK
5. FLYING RED HORSE
6. SNOW DON'T FALL
7. WHEN SHE KISSES ME
8. MERCY OF THE WHEELS
9. I'M FROM NEW JERSEY
10. ITALIAN GIRLS
11. WRITING IN THE MARGINS
12. LOVE IS OUR CROSS TO BEAR
13. HOUSES IN THE FIELDS
14. LAND OF THE BOTTOM LINE
15. ALWAYS
16. ROAD OF GOOD INTENTIONS
17. BLUE CHALK
18. LIGHTNING'S BLUES
19. THE GYPSY LIFE
To assist everyone who purchases an AIX recording to obtain the best possible sound, the company includes an extensive series of system set-up and check tracks on every disc.