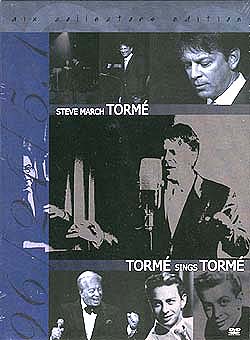 STEVE MARCH TORMÉ



TORMÉ sings TORMÉ

AIX 83042

AIX Records Collectors Edition - 2 Double Sided Discs

Steve March Tormé, vocals
Steve Rawlins, leader/piano
Jim DeJulio, bass
Gordon Peeke, drums
Lanny Morgan, alto sax
Gary Herbig, tenor sax


Jennifer Hall, baritone sax
Bobby Rodriguez, trumpet [solos]
Walt Johnson, trumpet
Ira Nepus, trombone
Wendell Kelly, trombone

Steve March Tormé brought together the charts, the talents, the spirit and even some of the musicians that played for his father so many years ago. This Collectors Edition AIX project contains lots of music, memories and all things Tormé, including Steve's version of The Christmas Song.



Steve March Tormé is a singer grounded in the tradition of his very famous father, Mel Tormé. This Collectors Edition disc captures the music, the style and even uses the same arrangements as Mel Tormé used recast with a fresh look by Steve March Tormé. AIX Records assembled the "tentet" on the stage of the Colburn School and put them through their paces. In amazing form, Steve and the band sailed through the tunes and lit up these terrific charts. The disc includes a large dose of Steve performing live in Palm Springs, interviews, photographs and inside look at the life and career of Mel Tormé.
Mark Waldrep - AIX records



96 kHz/24 Bits PCM Stereo Mix compatible with all DVD players

Compatible with DVD-Audio and DVD-Video players

Photo Gallery

Extensive Artist Bios

Complete Session Video

Live Concert Video

Mel Tormé Tribute Video

Alternate 5.1 channel surround mixes "Stage" and "Audience" Point Of View

Extensive Interactive Liner Notes on the Performers, Session and Technical Info

Complete information on the DVD format, 5.1 channel surround and Setup Instructions

Disc One - DVD-Video
Side One [Light Blue Side Up] - Interactive Program
Side Two [Dark Blue Side Up] - Linear Program

Disc Two - DuaIDisc/CD-Audio and DVD-Audio
Side One [Green Side Up] - CD-Audio Tracks
Side Two [Red Side Up] - DVD-Audio Tracks
[DVD~Audio player required]
Song List


1. Sweet Georgia Brown
2. On The Street Where You Live
3. Just One Of Those Things / Green Dolphin Street
4. When You Wish Upon A Star / I'm Wishing
5. Trolley Song / Get Me To The Church On Time
6. Ridin' High / Shootin' High
7. Comin' Home Baby
8. Mountain Greenery
9. Born To Be Blue
10. Ruby
11. The Folks Who Live On THe Hill
12. Lulu's Back In Town
13. It Don't Mean A Thing (If It Ain't Got That Swing)
14. The Christmas Song
To assist everyone who purchases an AIX recording to obtain the best possible sound, the company includes an extensive series of system set-up and check tracks on every disc.

---
AIX records DVDs and CDs are distributed in Australia by
Rockian Trading, P.O.Box 44, Briar Hill, Vic, 3088
Telephone (03) 9432 4149 ~ Facsimile (03) 9444 6879

---