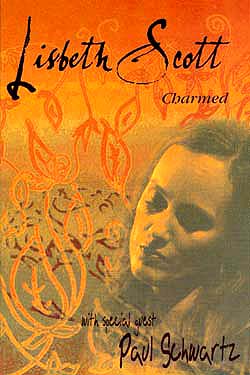 Lisbeth Scott
Charmed

AIX 80046
with special guest Paul Schwartz, piano

"I sing to comfort, heal, move, transport and awaken the divine voice within us all." - Lisbeth Scott.



Someone heard Lisbeth singing and playing piano for a modern dance class in the hills of Idyllwild and suggested her voice for a score by composer Hans Zmmer. That was all it took.



Scott's uniquely moving and sweetly melodic voice has been heard on literally hundreds of films. John Williams wrote a 5 minute solo specifically for her in the score for Spielberg's film "Munich". She was the featured vocalist and co-lyricist for the John Debney score to the film "The Passion of The Christ". She was the featured vocalist and songwriter for the Disney film "The Lion The Witch and The Wardrobe."



While her film work was gaining momentum, Scott was busy honing her craft as an artist in her own right. She recorded and produced four critically acclaimed CDs of her solo work and was the featured vocalist and co-writer for Paul Schwartz' RCA releases "State of Grace" (l and II) and "Earthbound", all of which spent more than 10 weeks on Billboard's Top Ten list. Scott has toured the world as both a solo artist and a featured vocalist for Paul Schwartz, John Debney, and Harry Gregson Williams performing with a 100 piece symphony orchestra one night and accompanying her own singing on piano, guitar and harmonium the next.



• Shot in High-Definition Video
• 96 kHz/24 Bits PCM Stereo Mix compatible with all DVD players
• Compatible with DVD-Audio and DVD-Video players
• Photo Gallery
• Extensive Artist Bios
• Complete Session Video
• Alternate 5.1 channel surround mixes "Stage" and "Audience" POV
• Extensive Interactive Liner Notes on the Performers, Session and Technical Info
• Complete information on the DVD format, 5.1 channel surround and Setup Instructions

Side One [Blue Side Up] DVD-Video - Playable in all DVD players:
Includes video, interactive menus, alternate music mixes ("Stage" 5.1 DIS. "Audience" 5.1 Dolby & 96/21 P[M Stereo) and extras.
Side Two [Red side Up] DVD-Audio - Playable in OVD-Audio players ONLY!
Includes High-Resolution, 9G kHz/24-bits audio in a "Stage" mix encoded with MLP


Song List



1. Undone



2. Let Me



3. Quiet



4. Be Still



5. Swing Low



6. I Fall



7. How Do You Stay?



8. Dove



9. Charmed



10. Love Is All
To assist everyone who purchases an AIX recording to obtain the best possible sound, the company includes an extensive series of system set-up and check tracks on every disc.

---
AIX records DVDs and CDs are distributed in Australia by
Rockian Trading, P.O.Box 44, Briar Hill, Vic, 3088
Telephone (03) 9432 4149 ~ Facsimile (03) 9444 6879

---