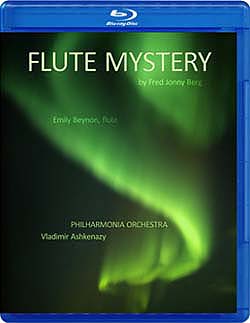 FLUTE MYSTERY
By Fred Jonny Berg

Emily Beynon, flute
Catherine Beynon, harp
Philharmonia Orchestra
Vladimir Ashkenazy, conductor


2L58SABD

Hybrid SACD + music Blu-ray
5.1 SURROUND + STEREO produced in DXD (Digital eXtreme Definition)
The hybrid SACD also plays on all standard players and computers.




Only the full symphony orchestra can impose the true emotional dynamics of the arctic nature. Flute Mystery is a collection of five orchestral works by Norwegian composer Fred Jonny Berg. In this distinctive and dynamic surround sound recording, the Philharmonia Orchestra with Emily & Catherine Beynon as soloists on flute & harp are conducted by the legendary Vladimir Ashkenazy.



Fred Jonny Berg (b. 1973) is a distinctive and innovative Norwegian composer with an unusually rich palette of sounds and textures at his disposal. His music covers a wide range of genres and is scored for a great variety of ensembles. All of his works bear the unmistakable imprint of strong originality and authenticity. In addition to his extensive composing career Fred Jonny Berg has also had considerable success as a writer, singer and film maker.



A musical polymath, naturally sensitive to the humanistic qualities of music, Berg is concerned with areas of tension between melos and form, light and dark, burlesque humour and profound melancholy. Powerful melodic emotions are juxtaposed with vertical and horizontal structures where diatonic, polytonal and modal harmonies have a natural place within his musical universe. Berg's distinctive, even liberating idiosyncratic approach to musical language constantly amazes: his voice comes across clearly and unmistakably as his own; as a voice which cannot be ignored.



Berg is one of a handful of composers who are able to create the rare experience of enchanted silence in their music - Berg's Flute Concerto No.1 Op.70 contains several such moments. Even though his tools are a "conventional" orchestra using "conventional" instruments, an unreal atmosphere of calm and celestial flight arises.



Recorded at Watford Colosseum, London
January 2008 by Lindberg Lyd AS
Flute Mystery
By Fred John Berg


1. Flute Mystery Op.66b 14:12
2. Warning Zero Op.54b 10:02
3. Pastorale Op.32 No.1 1:51
4. Vicino alla Montagna Op.58b 12:24



Flute Concerto No.1 Op.70
5. I. Memento 7:16
6. II. Reminiscence 5:06
7. III. Obituary 1:51
8. IV. Awakening 4:45



Emily Beynon, flute (1, 5-8)
Catherine Beynon, harp (1)
Philharmonia Orchestra - Vladimir Ashkenazy, conductor (1, 5-8)
Fred Jonny Berg, conductor (2-4)



Op.66 is dedicated to Sir James Galway.
Alto flute version (Op.66a) first performed in 2006 by Galway and
National Symphony Orchestra, conducted by Leonard Slatkin



Op.70 is dedicated to Emily Beynon.
First performed in 2009 by Beynon and Philharmonia Orchestra,
conducted by Vladimir Ashkenazy
FORMATS AVAILABLE ON THIS DOUBLE DISCS SET



ON THE HYBRID SACD
DSD SACD 2.8224 Mbit/s/ch STEREO
DSD SACD 2.8224 Mbit/s/ch 5.1 CHANNEL SURROUND
Compact Disc 44.1 kHZ / 16 bit STEREO



ON THE BLU-RAY DISC
LINEAR PCM 192 kHZ / 24 bit STEREO
dts-HD Master Audio 96 kHZ / 24 bit 5.1 CHANNEL SURROUND