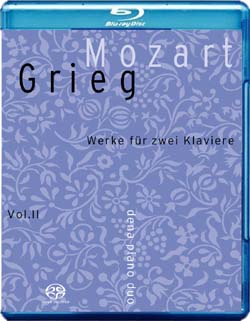 Mozart / Grieg
Werke für zwei klaviere
vol. II

dena piano duo
tina margareta nilssen
heide görtz


2L57SABD

Hybrid SACD + music Blu-ray
5.1 SURROUND + STEREO produced in DXD (Digital eXtreme Definition)
The hybrid SACD also plays on all standard players and computers.




Mozart's Sonata in D for Two Keyboards K 448 is considered to be one of the most important works for piano duo in Western music. Mozart composed the sonata to play together with his pupil Josephine Aurnhammer. In a letter to his father he wrote that in November 1781 he had performed with her in a private recital at the Aurnhammer home in Vienna: "We played Concert à Due, and a sonata for two which I composed in all haste, and both were a huge success." The "Concert à Due" refers to the E flat major concerto for two pianos K 365, while the sonata composed in all haste was the sonata in D major for two pianos.



Sonata K 448 consists, as do all of the other piano sonatas, of three movements: a slow movement framed by two fast movements. The technical challenges are greater in this sonata than in the solo sonatas. The two piano parts are equally demanding; an intense dialogue is established between the two performers, who exchange humorous musical comments. The sonata radiates musical joy; the main theme of the Andante movement is one of Mozart's most beautiful melodic inventions.



In the 1990s the sonata attracted much attention from the media when it was used in a widely publicized brain research project. In a series of experiments the participants were divided into three groups. The first group listened to a ten-minute excerpt from Mozart's sonata, the second group listened to "relaxation" music, and the third group sat in complete silence. All the participants were then asked to complete an intelligence test. The results showed that the "Mozart group" scored highest on questions requiring spatial conception. This phenomenon was later referred to in brain research as the "Mozart effect".
…



The Dena Piano Duo consists of the Norwegian pianist Tina Margareta Nilssen and her former professor at the Universität der Künste in Berlin, Heide Görtz.



The duo has played in several concert series and festivals in Europe. In 2007 they released their critically acclaimed recording of Grieg's Mozart arrangements.



Both pianists have a solid grounding as soloists and chamber musicians, and both of them have won competitions, scholarships and stipends, in addition to leading international recital careers. The Duo play by the Goertz- Method, a piano technique developed by Heide Görtz through her many years of intense research on the physiological and neurological prerequisites of piano playing. This method leads to the development of good sound, precision and musical flexibility.

Wolfgang Amadeus Mozart (1756-1791)
Sonate in D-Dur für zwei Klaviere KV 448 (Wien 1781)
1. Allegro con spirito 08:30
2. Andante 08:30
3. Allegro molto 06:34



Wolfgang Amadeus Mozart
Fantasie in c-moll KV 475 (Wien 1775)
mit frei hinzukomponierter Begleitung eines zweiten Klaviers von Edvard Grieg (1843-1907)
4. Adagio 04:38
5. Allegro 01:32
6. Andantino 02:16
7. Più Allegro 01:31
8. Tempo primo 01:59



Edvard Grieg (1843-1907)
9. Altnorwegische Romanze mit Variationen für zwei Klaviere op. 51 (Troldhaugen 1890) 23:58
FORMATS AVAILABLE ON THIS DOUBLE DISCS SET



ON THE HYBRID SACD
DSD SACD 2.8224 Mbit/s/ch STEREO
DSD SACD 2.8224 Mbit/s/ch 5.1 CHANNEL SURROUND
Compact Disc 44.1 kHZ / 16 bit STEREO



ON THE BLU-RAY DISC
LINEAR PCM 192 kHZ / 24 bit STEREO
dts-HD Master Audio 192 kHZ / 24 bit 5.1 CHANNEL SURROUND