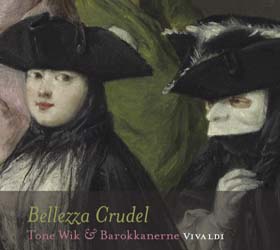 Bellezza Crudel
Vivaldi
Cantatas & Concertos


Tone Wik soprano
Barokkanerne period instrument ensemble



2L56SACD


This hybrid SACD will also plays on all standard players and computers.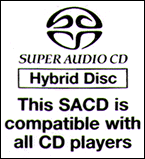 Tone Wik


At the age of seven, Tone started singing in the Norwegian Broadcasting Girls Choir under the conductor Marie Foss. There, particular attention was given to intonation and quality of sound, and years of rehearsals and concerts laid the foundation of her musical education.



Having finished her studies at the Norwegian Academy of Music and the Oslo Conservatory of Music, she developed an interest in early music. This repertoire, with its demands for technical virtuosity and almost instrumental clarity of sound, suited her perfectly. She then went on to complete graduate studies in baroque singing at the Royal Conservatory in the Hague, Netherlands.



Since then, Tone Wik has performed both chamber and church repertoire. She has appeared as a soloist with early music conductors and muscians such as Andrew Manze, Joshua Rifkin, Andrew Parrott, Harry Christophers, Edward Higginbottom, Ketil Haugsand, Shalev Ad-El, Ronald Brautigam and Ryo Terakado. She has performed with ensembles such as Concerto Copenhagen, The Bach Ensemble New York, Il Gardellino, Barokkanerne, the Norwegian Baroque Orchestra and Stavanger Symphony Orchestra. She has also participated in many recordings and has performed on radio and television throughout Europe.



In 2002 and 2003, she performed the role of the Israeli Woman in Handel's oratorio Esther in New York, and received critical acclaim in The New York Times. In 2003, her first solo CD, Dolcissimo Sospiro of Italian music from the early 17th century and the contemporary piece Rinuccini by Ron Ford, was critically acclaimed in both the Norwegian and the international press.

BAROKKANERNE
Alto recorder: Alexandra Opsahl (14-16)
Bassoon: Per Hannisdal (8-10. 14-16)
Flauto traverso: Torun Kirby Torbo (18, 20)
Violin I: Rodolfo Richter (2, 4. 8-10. 14-16)
Ingeborg Fimreite (14-16)
Jørn Halbakken (14-16)
Niels Aschehoug (14-16)
Violin II:Clare Salaman (2. 4. 14-16)
Karolina Radziej (8-10)
Dagny Bakken (14-16)
Siv Thomassen (14-16)
Viola; Mari Giske (2, 4. 8-10. 14-16)
Marja Liisa Sandbakken (14-16)
Cello: Gunnar Hauge (all tracks)
Double bass: Einar Schøyen (2. 4, 8-10. 14-16)
Harpsichord: Christian Kjos (all tracks)
Theorbe / baroque guitar: Vegard Lund (1-4, 8-10, 14-16, 17-20)

CANTATA RV 679 Che giova il sospirar, povero core
per soprano, due violini, viola e basso
1. Recitativo [0:56]
2. Aria; Nell'aspro tuo periglio [5:47]
3. Recitativo [0:41]
4. Aria: Cupido, tu vedi [3:22]



CANTATA RV 660 La farfalletta s'aggira al lume
per soprano e basso continuo
5. Aria: La farfalletta s'aggira al lume [4:58]
6. Recitativo [1:02]
7. Aria: Vedro con nero velo [6:06]



CONCERTO RV 484 in mi minore
per fagotto, archi e basso continuo
8. Allegro poco [4:06]
9. Andante [3:09]
10. Allegro [2:59]



CANTATA RV 664 Se ben vivono senz'alma
per soprano e basso continuo
11. Aria: Se ben vivono senz' alma [5:51]
12. Recitativo [0:58]
13. Aria: Nella tua guancia amorosa [3:50]



CONCERTO RV 441 in do minore
per flauto, archi e basso continuo
14. Allegro non molto [4:31]
15. Largo [2:19]
16. Untitled [3:20]



CANTATA RV 678 All' ombra di sospetto
per soprano, flauto traverse e basso continuo
17. Recitativo [0:23]
18. Aria: Avezzo non è il core [4:41]
19. Recitativo [0:51]
20. Aria: Mentiti contenti [3:43]
2L Records
distributed in Australia by
Rockian Trading
SACD, DSD & and their logos are trademarks of Sony Corporation