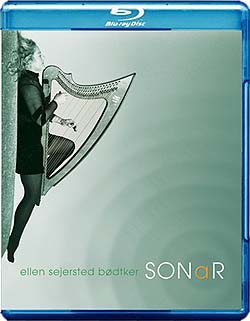 SONaR
WORKS BY MAGNAR ÅM


Ellen Sejersted Bødtker electric and acoustic harps
Hildegunn Riise recitation Berit Norbakken solo soprano
Oslo Kammersolister:
Jon Gjesme / Atle Sponberg violins
Catherine Bullock / Jon Sønstebø violas
Øystein Sonstad / Anne Brit Sævig Årdal cellos
Grex Vocalis - Carl Høgset conductor




2L51SABD

Hybrid SACD + music Blu-ray
5.1 SURROUND + STEREO produced in DXD (Digital eXtreme Definition)
The hybrid SACD also plays on all standard players and computers.



Magnar Åmís music was a powerful experience. It made a deep impression through the unique way in which the harp with its sonorous, fragile, naïve, gentle and dramatic qualities is used, providing a dimension that I had always looked for. Four years of intense collaboration has resulted in these three solo works for the harp. - ESB


Magnar Åm studied composition at the conservatory of Music in Bergen and the Academy of Music in Stockholm. He made his breakthrough as a composer with the work Prayer (1972) for strings, choir and soprano. Åmís music is characterized by a polyphonic, freely dissonant or atonal style incorporated within an ascetic musical idiom. Åm frequently collaborates with writers and artists to create a common artistic ground. Magnar Åm is himself a writer; his own poems are the basis of two of the three works on this recording. His output ranges from vocal and chamber music via installations to large-scale orchestral works. His more recent production includes the oratorio tree of tenderness (1999), the bassoon concerto lonely/embraced (2004), the harp concertos be the purpose (2005) and this our virgin now (2005) and the violin concerto stalagmite time featuring fragments of Fartein valen's sketches for a fifth symphony (never realized) which Åm "exhibits" in his work.



Ellen Sejersted Bødtker received her musical training at the Norwegian Academy of Music in Oslo, Hochschule für Musik und darstellende Kunst in Vienna and at Inidiana University, USA.



Ellen Sejersted Bødtker is renowned for her commitment to and enthusiasm for contemporary music and has given several first performances in her capacity as solo harpist of the Oslo Sinfonietta, and a number of works have been composed especially for her. She is frequently engaged by the Oslo Philharmonic Orchestra with whom she has given concerts worldwide. She made her recording début as a solo performer on Naxos with the CD French music for harp and strings in 2001. The recording received excellent reviews in many countries and was nominated CD of the month in Canada and Norway in 2002. In 2003 she released her second album, Villveng, which features Norwegian music and includes compositions by Ellen Sejersted Bødtker herself, collaborating with leading performers in a variety of musical genres. Her solo career has taken her to all the major Norwegian festivals as well as to Italy, Paris, USA and Russia.

vere meininga (be the purpose)
01. concerto for harp and string sextet 28:20



det var mjukt (I awoke)
02. for soprano and harp 4:09



dette blanke no (This is our virgin now)
03. concerto for harp and angels 25:42
FORMATS AVAILABLE ON THIS DOUBLE DISCS SET



ON THE HYBRID SACD
DSD SACD 2.8224 Mbit/s/ch STEREO
DSD SACD 2.8224 Mbit/s/ch 5.1 CHANNEL SURROUND
Compact Disc 44.1 kHZ / 16 bit STEREO



ON THE BLU-RAY DISC
LINEAR PCM 192 kHZ / 24 bit STEREO
LINEAR PCM 192 kHZ / 24 bit 5.1 CHANNEL SURROUND
dts-HD Master Audio 192 kHZ / 24 bit 5.1 CHANNEL SURROUND
DOLBY TRUE HD 192 kHZ / 24 bit 5.1 CHANNEL SURROUND
DOLBY DIGITAL 48 kHZ 5.1 CHANNEL SURROUND