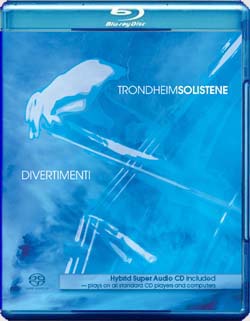 DIVERTIMENTI
WORKS BY
BRITTEN, BACEWICZ, BJØRKLUND & BARTÓK

TRONDHEIM SOLISTENE


2L50SABD

Hybrid SACD + music Blu-ray
5.1 SURROUND + STEREO produced in DXD (Digital eXtreme Definition)
The hybrid SACD also plays on all standard players and computers.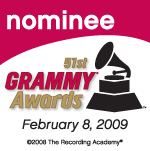 NOMINATED FOR 3 GRAMMYTM AWARDS


1. Producer and balance engineers Morten Lindberg and Hans Peter L'Orange, nominated for Best Surround Sound Album.



2. Producer and balance engineers Morten Lindberg and Hans Peter L'Orange, also nominated for Best Engineered Album.



3. Trondheim Solistene, nominated for Best Small Ensemble Performance.



Following on from the award winning recording of MOZART's violin concertos with Marianne Thorsen, Trondheim Solistene team up once again with the recording company 2L for their new production. This album features a selection of some of the finest and most technically challenging repertoire for string orchestra, and includes repertoire by Benjamin Britten, the Polish composer Grazyna Bacewicz, the Norwegian composer Terje Bjørklund as well as Bela Bartok's seminal work for string orchestra the Divertimento. DIVERTIMENTI is the first music-only recording to be made available commercially in the ground breaking format of Blu-ray. A true world premiere!



The divertimento as a musical genre dates back to the nineteenth century. Divertimenti were composed for various social occasions and were intended to be light, uncomplicated and cheerful. Such pieces were often scored for small string ensemble. Over the years this effortless, elegant form has appeared in many different musical styles and, to a large extent, set the standard for the virtuosic chamber music we know today. A number of the most prominent composers of our age have engaged with this most fascinating musical style and have contributed to its further refinement as a chamber-symphonic showpiece.



Benjamin Britten (1913-1976)
Simple Symphony op. 4
1. Boisterous Bourree 3:02
2. Playful Pizzicato 3:08
3. Sentimental Saraband 6:22
4. Frolicsome Finale 2:55



Grazyna Bacewicz (1909-1969)
Concerto for String Orchestra
5. Allegro 5:13
6. Andante 5:02
7. Vivo 5:06



Terje Bjørklund (1945-)
8. Carmina 13:09



Béla Bartók (1881-1945)
Divertimento for Strings sz. 113
9. Allegro non troppo 8:54
10. Molto adagio 8:53
11. Allegro assai 7:08



Total program time 69:03
FORMATS AVAILABLE ON THIS DOUBLE DISCS SET



ON THE HYBRID SACD
DSD SACD 2.8224 Mbit/s/ch STEREO
DSD SACD 2.8224 Mbit/s/ch 5.1 CHANNEL SURROUND
Compact Disc 44.1 kHZ / 16 bit STEREO



ON THE BLU-RAY DISC
LINEAR PCM 192 kHZ / 24 bit STEREO
LINEAR PCM 192 kHZ / 24 bit 5.1 CHANNEL SURROUND
dts-HD Master Audio 192 kHZ / 24 bit 5.1 CHANNEL SURROUND
DOLBY TRUE HD 192 kHZ / 24 bit 5.1 CHANNEL SURROUND
DOLBY DIGITAL 48 kHZ 5.1 CHANNEL SURROUND