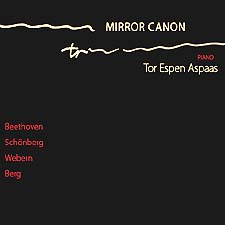 MIRROR CANON
Piano Music from the First and Second Viennese Schools

Tor Espen Aspaas PIANO
Kolbjørn Holthe VIOLIN


2L49SACD


This hybrid SACD will also plays on all standard players and computers.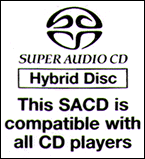 Mirror canon - a canon or fugue in which one or more expositions of the original themes and voices are presented as if in a mirror.



The First and Second Viennese Schools and their associated cultural environments constitute a fascinating, enigmatic musical terrain of strong mutual relationships. This recording seeks to explore points of tension between the two epochs by contrasting four central compositions - masterpieces which constantly inform our perception of what music is and what music can be. Two canons, mirrored in their own reflection.


Reflections in a Mirror Canon - piano music from the First and Second Viennese Schools.


Joseph Haydn, Wolfgang Amadeus Mozart and Ludwig van Beethoven were not aware of belonging to the First Viennese School - just as Arnold Schönberg, Anton Webern and Alban Berg did not count themselves as founders or proclaimed representatives of the second.
The Viennese Schools, like many other musical-historical epoch divisions, are the product of pragmatic, musicological retrospect. The terms, however, identify something beyond the geographical and chronological axes of a system of coordinates; the two Viennese Schools have much more in common than their nominal capital city - there are innumerable correspondences and connections to be found here.
The Vienna of the Habsburg dynasty and the dual monarchy stands alongside ancient Greece and renaissance Italy as a spawning ground for some of the richest cultural periods in the history of the western world; the two Viennese Schools each build on canons of works and phenomena that reflect one another and the respective cultural environments in 1800 and 1900. By comparing the works of the First Viennese School with those of the Second, allowing the two canons to mutually illuminate each other, it is possible to explore points of departure at which attitudes informed by history and tradition gave way to rebellion and the settlement of accounts - not just on behalf of tonality, but on behalf of passed-down forms, philosophies, aesthetics and Zeitgeist.
…
Tor Espen Aspaas 2008

Ludwig van Beethoven 1770-1827
Sonate Nr. 32 c-moll op. 111
1. Maestoso - Allegro con brio ed appassionato 9:54
2. Arietta. Adagio molto semplice e cantabile 18:45



Arnold Schönberg 1874-1951
Sechs kleine Klavierstücke op. 19
3. Leicht, zart 1:42
4. Langsam 1:18
5. Sehr langsame Viertel 1:19
6. Rasch, aber leicht 0:29
7. Etwas rasch 0:47
8. Sehr langsam 2:17



Anton Webern 1883-1945
Vier Stücke für Geige und Klavier op. 7
9. Sehr langsam 1:22
10. Rasch 1:38
11. Sehr langsam 1:52
12. Bewegt 1:04
with Kolbjørn Holthe, violin



Alban Berg 1885-1935
Sonate für Klavier op. 1
13. Mäßig bewegt 13:30
2L Records
distributed in Australia by
Rockian Trading
SACD, DSD & and their logos are trademarks of Sony Corporation