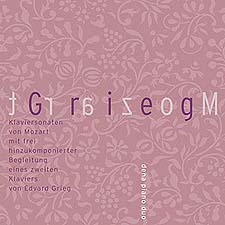 M o z a r t
G r i e g

dena piano duo
tina margareta nilssen + heide görtz


2L40SACD


This hybrid SACD will also plays on all standard players and computers.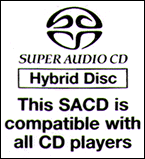 Mozart in Romantic Guise
Mozart was without a doubt one of Edvard Grieg's favourite composers. When his mother gave lessons or entertained family and friends for an evening of music, it was the music of Wolfgang Amadeus Mozart which made the greatest impression on him. As he grew older, Mendelssohn and Schumann became his idols - without usurping Mozart's prominence among his favourite composers. The thirteen-year-old Edvard Grieg, a pupil at the Tanks school in Bergen, was given a Mozart biography by his Czech piano teacher Ferdinand Joseph Schediwy on the occasion of Mozart's hundredth anniversary in 1856. In the course of his four years of studies at the music conservatoire in Leipzig, Grieg was required to write a string quartet. He felt that his tuition so far had not adequately prepared him for such a task, and approached the assignment by first studying the quartets of Mozart and Beethoven. At a concert he gave on returning to Bergen as a graduate musician he performed piano trios by Mozart together with his cellist brother John, and the famed violinist Ole Bull. As a student Grieg listened to a lot of Mozart, and later programmed many of his works as a performer and in his capacity as orchestra director in Oslo and Bergen. During the winter of 1876/77 he arranged four of Mozart's nineteen piano sonatas for two pianos by adding his own, newly composed part. In a letter of April 23, 1877 to his friend August Winding he wrote about his composing: "My recent spare time I have spent composing a 'Piano Secondo' to Mozart's Piano Sonatas, and have tried them out with Mrs Lie-Nissen. Much of it sounds excellent; so good, in fact, that I have reason to hope that Mozart will not turn in his grave." Erika Nissen, one of the first to include Grieg's piano concerto in her repertoire, was one of Norway's foremost pianists.
…



Dena Piano Duo is the young Norwegian pianist Tina Margareta Nilssen and her former professor at the Universität der Künste in Berlin, Heide Görtz.



In the course of the year the duo has existed, they have already played in several concert series and festivals in Berlin, Trondheim, Bergen and Oslo. Their performances have been well received in both Norway and Germany for their musical spontaneity, clear phrasing and nuances of texture. Both pianists have a solid grounding as soloists and chamber musicians, and both of them have won competitions, scholarships and stipends, in addition to leading international recital careers. They are now hoping to realize an international career as a duo, currently focusing on little-known Norwegian works for two pianos by composers including Thomas Tellefsen and Christian Sinding, as well as the seldom performed, colourful pieces on this CD.


Sonate in C-Dur, K 545, "Sonata facile" (Wien 1788)
01. Allegro 04:58
02. Andante 05:14
03. Rondo. Allegretto 01:46
Tina Margareta Nilssen, Klavier 1
Heide Görtz, Klavier 2



Sonate in F-Dur, K 533/494 (Wien 1788/1786)
04. Allegro 08:53
05. Andante molto 07:23
06. Rondo. Allegretto 06:38
Heide Görtz, Klavier 1
Tina Margareta Nilssen, Klavier 2



Sonate in G-Dur, K 283 (Salzburg 1774)
07. Allegro 05:54
08. Andante 05:57
09. Presto 04:53
Heide Görtz, Klavier 1
Tina Margareta Nilssen, Klavier 2



Sonate in c-Moll, K 475/457 (Wien 1785/1784)
10. Allegro molto 08:27
11. Adagio molto 08:08
12. Allegro assai 04:53
Tina Margareta Nilssen, Klavier 1
Heide Görtz, Klavier 2
2L Records
distributed in Australia by
Rockian Trading
SACD, DSD & and their logos are trademarks of Sony Corporation