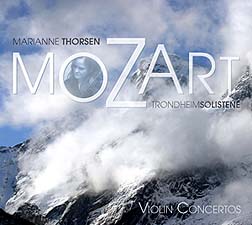 WOLFGANG AMADEUS MOZART
Violin Concertos


MARIANNE THORSEN
TRONDHEIMSOLISTENE • ØYVIND GIMSE



2L38SACD


This hybrid SACD will also plays on all standard players and computers.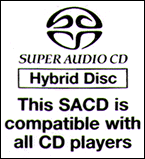 Marianne Thorsen began playing the violin at the age of four at the municipal music school in Trondheim, where Bjarne Fiskum was her principal teacher. She studied with Felicity Lipman in London and later with György Pauk at the Royal Academy of Music. In 1994 she graduated from the Royal Academy with a DipRAM.



In 1998 Marianne was nominated Young Soloist of the Year by the Norwegian concert institution Rikskonsertene. She won the Carl F. Flesch Outstanding Merit Prize in 1992, the Emily English Award 1995 and the Concours Internationale de Violon de Sion-Valais 2003. Marianne has performed as soloist with leading orchestras including the Philharmonia, BBC Symphony, City of Birmingham, Orchestre de la Suisse Romande, Prague Philharmonia and the Oslo Philharmonic.



TRONDHEIMSOLISTENE was founded in 1988 by Professor Bjarne Fiskum, and was for many years an arena for professional concert training for string players at the Conservatoire in Trondheim. As a result of many concerts throughout Europe as well as concert tours to the USA, Japan and Brazil, TrondheimSolistene has grown to be an ensemble of international renown.



Øyvind Gimse was appointed artistic director of TrondheimSolistene in 2002, continuing the ensemble's broad programming profile and musical versatility, performing music from the baroque and romantic repertoires as well as tango, jazz, rock and contemporary music. TrondheimSolistene is an important advocate of Norwegian music. Energy, creativity and enthusiasm characterize the orchestra's activities, and its concerts are full of humour, spontaneity and intensity. TrondheimSolistene collaborates regularly with soloists such as Leif Ove Andsnes, Martin Fröst, Joshua Bell, Ole Edvard Antonsen, Arve Tellefsen and Anne-Sophie Mutter. TrondheimSolistene's discography includes over 20 recordings to date.



Following studies in Oslo, Munich, Salzburg and Vienna Øyvind Gimse was assistant principal cellist with the Trondheim Symphony Orchestra 1991-97. His teachers have included Walter Nothas, Frans Helmerson and William Pleeth.


Violin Concerto no. 4 in D major KV 218
1. Allegro 9:14
2. Andante cantabile 7:51
3. Rondeau - Andante grazioso 7:27



Violin Concerto no. 3 in G major KV 216
4. Allegro 9:54
5. Adagio 8:47
6. Rondeau - Allegro 6:32



Violin Concerto no. 5 in A major KV 219
7. Allegro aperto 9:53
8. Adagio 11:02
9. Rondeau - Tempo di Menuetto 8:55
2L Records
distributed in Australia by
Rockian Trading
SACD, DSD & and their logos are trademarks of Sony Corporation