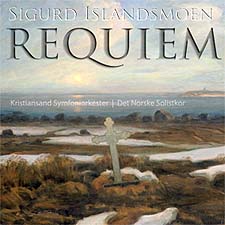 Sigurd Islandsmoens
REQUIEM

Kristiansand Symfoniorkester | Terje Boye Hansen
Hilde Haraldsen Sveen, sopran ~ Marianne Beate Kielland, alt
Ulf Øien, tenor ~ Trond Halstein Moe, bass
Det Norske Solistkor | Grete Pedersen


2L36SACD


This hybrid SACD will also plays on all standard players and computers.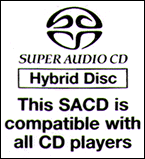 Sigurd Islandsmoen [1881—1964]



Sigurd Islandsmoen grew up in the village of Bagn in Sør-Aurdal (northwest of Oslo), in a home filled with music and song. He trained as a teacher, which was his profession from 1904 to 1916, though his first love was music. He attended the music conservatory in Oslo, continuing his studies in Leipzig where his teachers included Max Reger. In Leipzig Islandsmoen was introduced to the most advanced form of romantic music, with its strong element of chromatic harmony. He became an organist, and, for most of his life, occupied the post of organist at Moss church. His tenure in Moss lasted from 1916 to 1961; he made a considerable contribution to the music life of the church and the town in general. He started a choral society and an orchestral society, and with these forces he was able to put on many oratorio performances. Among the larger works performed were Mendelssohn's Elijah, Handel's Messiah and Judas Maccabeus, Max Bruch's Das Lied von der Glocke, Cherubini's Requiem, and Haydn's The Seasons.




Terje Boye Hansen has many good and qualified reasons for his musical choices. Nothing has been left to chance – not even the personal composition of the solo quartet on this premier recording of Islandsmoen's Requiem. The idea was to put together four solo voices which could provide a balanced, homogenous counterpart to the two large tutti groups of the orchestra and the choir, while at the same being able to rise to the challenge of the individual solo passages. The choice fell on four of Norway's most prominent singers, Hilde Haraldsen Sveen (soprano), Marianne Beate Kielland (mezzo soprano), Ulf Øien (tenor) and Trond Halstein Moe (bass-baritone); all have a rich and varied background in opera and oratorio.



Hilde Haraldsen Sveen studied at the Hochschule der Künste (Berlin) until 1994. She has an impressive merit list that includes important roles at a number of European opera houses. Her repertoire is equally impressive, ranging from Charpentier and Mozart to Poulenc and Cage. In 1999 she made her official début at the Norwegian National Opera as Violetta in La Traviata. Thanks to her remarkable versatility Hilde Haraldsen Sveen is a much sought-after singer for oratorios, concerts and solo recitals; she is also involved in a documentation project of the Norwegian Lied repertory. In addition to her singing career Hilde Haraldsen Sveen is a highly esteemed teacher at the Grieg Academy in Bergen.



Marianne Beate Kielland studied at the Norwegian Academy of Music and was for the 2001-02 season engaged at the Staatoper in Hannover, rapidly establishing herself as one of the leading singers of her generation in Scandinavia. Marianne Beate performs regularly with leading orchestras and at festivals all over Europe and in Asia. Her close collaboration with the RIAS chamber choir in Berlin has led to solo engagements and key roles in major works including Handel's Messiah, Mozart's Requiem and Mendelssohn's Paulus, and the title role in Handel's Solomon. Marianne Beate Kielland has a hectic tour schedule, with future engagements taking place in Germany, France, Belgium, the Netherlands and Japan.



Ulf Øien, tenor, studied at the Norwegian Academy of Music and the Opera Academy. In 1987 he was one of the finalists in the Belvedère competition in Vienna, and in 1990 he was a prize winner at the Opera and Belcanto competition in Belgium and was subsequently engaged for a three-year period by Bremen opera. Øien is a prominent figure on the German opera scene and has been hugely successful in leading roles throughout Europe. He has performed solo with all of Norway's leading orchestras, and contributed to CD recordings of the Norwegian composer Geirr Tveitt's work Baldurs draumar. Øien's repertoire includes a large number of sacred works; he has performed in innumerable concerts in Norway and abroad.



Trond Halstein Moe studied music at the University of Trondheim and at the Norwegian Academy of Music. He is justly one of the most often engaged soloists on the Norwegian opera scene and has a permanent engagement at the Norwegian National Opera. He has performed in a great many European countries, and in the course of his career has built up an extensive repertoire ranging from lyrical parts to the great dramatic opera roles, and including several sacred works. His wide vocal register has allowed him to sing a variety of different roles including Figaro in Rossini's opera The Barber of Seville, the title role in Verdi's Rigoletto, the Count in Mozart's The Marriage of Figaro and the title role in the premier performance of Ragnar Søderlind's opera Olav Tryggvason.



The Norwegian Soloists' Choir occupies a unique position in the music life of Norway. The choir has given over two hundred premier performances of which over seventy have been of works by Norwegian composers. The choir was established in 1950 by the Norwegian Soloists' Society with the aim of becoming an elite ensemble for performing choral music to the highest possible standard. The choir's first conductor was Knut Nystedt, who led the ensemble for forty years. In 1990 Grete Pedersen took over as conductor, and now holds the position of artistic director of the Norwegian Soloists' Choir.


01. Canto funébre 4:08
02. Introitus 4:00
03. Graduale 2:26
04. Dies irae 4:21
05. Kyrie eleison 3:33
06. Recordare 2:48
07. Preces meae 2:29
08. Confutatis 2:14
09. Oro supplex 1:49
10. Lacrymosa 4:50
11. Domine, Jesu Christe 1:50
12. Sanctus 1:51
13. Benedictus | Sanctus 4:26
14. Pie Jesu 5:13
15. Agnus Dei 4:58



Total Time 51:05
2L Records
distributed in Australia by
Rockian Trading
SACD, DSD & and their logos are trademarks of Sony Corporation