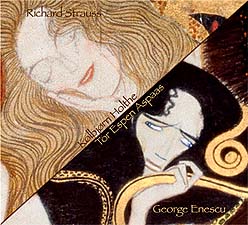 RICHARD STRAUSS
GEORGE ENESCU
Sonatas for violin and piano

Kolbjørn Holthe violin
Tor Espen Aspaas piano


2L34SACD


This hybrid SACD will also plays on all standard players and computers.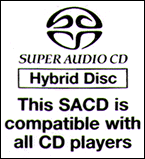 Richard Strauss was barely 23 when he completed his violin sonata in 1887. From the point of view of style and aesthetics this work, like the two faces of Janus, looks both backwards and forwards in time - to Beethoven and Brahms, Strauss' childhood lodestars, and to the influence of Liszt and Wagner which was soon to become evident in Strauss' music. Almost everything Strauss composed from the 1890s to Vier letzte Lieder in 1949 can be traced back to a point of origination in the violin sonata. …



The Romanian composer and violin virtuoso George Enescu who, according to the Spanish cellist Pablo Casals was "the greatest musical phenomenon since Mozart", said of the process behind his opus 25: "Before I set about composing the third violin sonata written 'with a Romanian folk character', I waited for the ability to develop within me to unite a primarily rhapsodic Romanian folk mode of expression with my own symphonic style of writing. I needed much time to reconcile these two opposed worlds…". There have been many attempts to do just this, to combine folk music with so-called art music. The result is often an idyll-evoking compromise - this, however, is not the case with Enescu; his third violin sonata is a rare example of stylistic boundaries transcended to produce a genuine, synergetic amalgamation. …



Kolbjørn Holthe (born 1973) is one of the leading Norwegian violinists of his generation and a much sought-after soloist, chamber musician and teacher. He was appointed Associate Professor at the Norwegian Academy of Music in 2001 where he himself studied between 1991 and 1997, with the exception of two years at the Louisiana State University studying with Camilla Wicks. Holthe is the recipient of numerous prizes and awards; his acclaimed 1999 debut recital received the Musikkens Venners Landsforbund award for best debut performance. He was concertmaster of the Norwegian National Opera Orchestra from 1997 - 2004 and is now section leader of the second violins in the Chamber Orchestra of Europe, of which he has been a member since 1997, and works regularly with conductors such as Claudio Abbado, Nikolaus Harnoncourt and Bernard Haitink. He has also appeared as a soloist with all the professional Norwegian symphony orchestras and the Norwegian Chamber Orchestra, and has in recent years been engaged as a soloist by the Symphony Nova Scotia and the Kitchener-Waterloo Symphony Orchestra in Canada, among others. As of August 2006 Kolbjørn Holthe is Artistic Director of the Tromsø Symphony Orchestra.



Tor Espen Aspaas (born 1971) is Associate Professor at the Norwegian Academy of Music where he is also a member of the executive committee. In addition to teaching he leads an extensive performing career as a soloist and chamber musician. Aspaas gained his postgraduate soloist's diploma at the Academy in 1996 and gave a critically acclaimed debut recital in Oslo the following year. Since then he has performed at international festivals and in concert series, he has made several recital tours and been engaged as a soloist by all the professional Norwegian symphony orchestras, and by many ensembles abroad in collaboration with conductors including Frans Brüggen, Vasily Sinaysky, Christian Eggen and Michel Plasson. Among the many grants and awards he has received are De Unges Lindemanpris 2004 and the prestigious Levin-prize 2005. Aspaas has made several recordings, including a solo CD of Paul Dukas' complete piano works which has received excellent reviews in the international press. Since 1999 Tor Espen Aspaas has been Artistic Director of the annual chamber music festival "Vinterfestspill i Bergstaden" which takes place in the town of Røros, Norway, in March.


RICHARD STRAUSS 1864-1949
Sonata for violin and piano in E flat major, op. 18
1. Allegro, ma non troppo 11:20
2. Improvisation. Andante cantabile 9:05
3. Finale. Andante - Allegro 8:58



GEORGE ENESCU 1881-1955
Sonata for violin and piano in A minor, op. 25
dans le caractère populaire roumain / with a Romanian folk character
4. Moderato malinconico 9:10
5. Andante sostenuto e misterioso 9:08
6. Allegro con brio, ma non troppo mosso 7:59
2L Records
distributed in Australia by
Rockian Trading
SACD, DSD & and their logos are trademarks of Sony Corporation