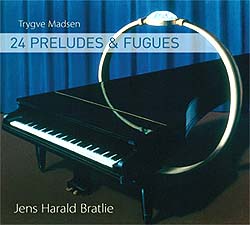 Trygve Madsen
24 Preludes & Fugues

Jens Harald Bratlie PIANO


2L33SACD - 2 Disc Set


This hybrid SACD will also plays on all standard players and computers.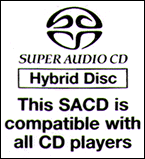 Trygve Madsen was born in Fredrikstad, Norway, on February 15, 1940. "I had the good fortune to be born into a family of musicians," he says, "my grandfather and his seven sons were all professional musicians. At six I began playing the piano, and began composing at about the same age. As my piano playing developed I became increasingly involved in the daily music-making at home, joining in anything from popular songs to sonatas.



Trygve stresses the fact that he also learnt to play from chord symbols: "It enabled me to really start improvising …" Some of this found its way on to paper; his imagination manifested itself in "waltzes and various smaller things". His desire to put poetry to music was subsequently awakened, and Trygve approached Arne Garborg's cycle of poems "Haugtussa" as well as poems by Herman Wildenvey and André Bjerke. During childhood Trygve Madsen was taught first by his father Haakon and later by his uncle Erik. At the age of twelve he began taking piano lessons from Jens Bugge Olsen and was taught music theory by Johannes Almgren, organist at Fredrikstad church. Almgren had studied with the famous German theoretician Hermann Grabner, who in turn had been a student of the great master of the fugue Max Reger - thus German thoroughness became a reality for Trygve at an early stage.



The twelve year old Trygve Madsen was not, however, only concerned with the history of counterpoint. His interest in jazz had been aroused a couple of years earlier, first and foremost by recordings by Erroll Garner, Dizzy Gillespie, Charlie Parker, Oscar Peterson - the jazz élite of the 1950s. All of these made a deep and lasting impression on Trygve, who still hasn't "recovered" - playing jazz piano remains one of his favourite pursuits.



In March 1953 Sergei Prokofiev died, an event which Swedish radio chose to mark by broadcasting a recording of his third piano concerto in a performance by Mourna Lympany. Trygve was already familiar with some of Prokofiev's music; nonetheless, listening to this performance proved to be a milestone. "That was what made me a composer," says Trygve. "I realized that this was the way for me; everything came together in Prokofiev's music. It was like coming home! Prokofiev shaped and moulded his musical material in his own way with superb craftsmanship, without violating the rules of music - often infusing it with a liberating sense of humour." Trygve obtained an LP of the work, which led to another discovery, namely Ravel's G major piano concerto, which was on the other side of the record.
…



Jens Harald Bratlie has played the piano for at least as long as he can remember. Growing up in a home filled with music gave him the necessary encouragement; his desire to become a performing musician was awakened in early childhood when, performing at a pupils' concert, he had a vivid experience of what it is to convey music: the sense of expectation and concentration beforehand, the perfect delivery of the performance itself - the sense of being a medium for great music "expressed through me," as he himself says - and lastly, the audience's spontaneous acclaim.



Thanks to his excellent teacher Hans Solum, Jens Harald soon caught the attention of the general public: at the age of fourteen he played the Grieg A minor piano concerto with the Norwegian Radio junior orchestra; the following year he performed the work again with the Oslo Philharmonic. In April 1965, sixteen years old, he gave his first solo recital. Arne Nordheim, music critic for the national daily newspaper Dagbladet, wrote: "He must without a doubt be considered one of those few gifted performers of whom one has the greatest of expectations. A reminder of his young age and the standard of technique he has achieved should remove all doubt of the fact that Jens Harald Bratlie is a pianist with the potential to shatter the glass of the Norwegian hothouse…For in Jens Harald Bratlie's playing, colour, dynamics and a sudden understanding of the true function of music burst forth with a level of intensity one only experiences in the chosen few." A career in music was the obvious choice for Jens Harald, despite his interest in theology and the classics. After studying with Vlado Perlemuter at the Paris Conservatory he was awarded the Premier Prix in 1967, before studying further with Ilona Kabos and Robert Riefling.
…


CD 1
1 - 2 Prelude & Fugue No. 1 C-dur (C major) 2:51 | 2:17
3 - 4 Prelude & Fugue No. 2 a-moll (A minor) 1:15 | 1:14
5 - 6 Prelude & Fugue No. 3 Fiss-dur (F-sharp major) 1:38 | 2:42
7 - 8 Prelude & Fugue No. 4 ess-moll (E-flat minor) 2:30 | 2:12
9 - 10 Prelude & Fugue No. 5 A-dur (A major) 1:17 | 1:14
11 - 12 Prelude & Fugue No. 6 fiss-moll (F-sharp minor) 1:00 | 4:02
13 - 14 Prelude & Fugue No. 7 Ess-dur (E-flat major) 1:15 | 1:37
15 - 16 Prelude & Fugue No. 8 c-moll (C minor) 2:11 | 2:05
17 - 18 Prelude & Fugue No. 9 F-dur (F major) 3:16 | 1:05
19 - 20 Prelude & Fugue No. 10 d-moll (D minor) 1:30 | 2:15
21 - 22 Prelude & Fugue No. 11 H-dur (B major) 1:27 | 1:48
23 - 24 Prelude & Fugue No. 12 giss-moll (G-sharp minor) 3:39 | 5:47
Total Time 52.23



CD 2
1 - 2 Prelude & Fugue No. 13 D-dur (D major) 1:13 | 1:01
3 - 4 Prelude & Fugue No. 14 h-moll (B minor) 4:13 | 1:50
5 - 6 Prelude & Fugue No. 15 Ass-dur (A-flat major) 1:51 | 1:11
7 - 8 Prelude & Fugue No. 16 f-moll (F minor) 2:28 | 2:39
9 - 10 Prelude & Fugue No. 17 G-dur (G major) 2:24 | 1:23
11 - 12 Prelude & Fugue No. 18 e-moll (E minor) 3:40 | 2:13
13 - 14 Prelude & Fugue No. 19 Dess-dur (D-flat minor) 1:29 | 1:24
15 - 16 Prelude & Fugue No. 20 Bb-moll (B-flat minor) 2:42 | 2:18
17 - 18 Prelude & Fugue No. 21 E-dur (E major) 0:56 | 2:07
19 - 20 Prelude & Fugue No. 22 Ciss-moll (C-sharp minor) 0:56 | 2:07
21 - 22 Prelude & Fugue No. 23 Bb-Dur (B-flat major) 2:13 | 2:22
23 - 24 Prelude & Fugue No. 24 g-moll (G minor) 2:07 | 2:54
Total Time 49:56
2L Records
distributed in Australia by
Rockian Trading
SACD, DSD & and their logos are trademarks of Sony Corporation