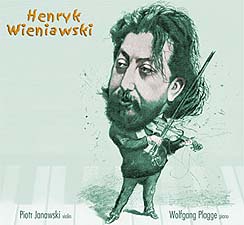 Henryk Wieniawski 1835-80
Complete Works for Violin Volume 2.


Piotr Janowski, violin • Wolfgang Plagge, piano


2L30SACD


This hybrid SACD will also plays on all standard players and computers.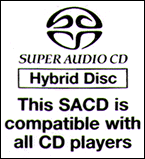 Henryk Wieniawski was born on July 10th 1835 in Lublin, Poland, and received his first music lessons from his mother Regina, herself a pianist. At 8 years old he was admitted to the Paris Conservatory as a violin student. After completing with gold medal the accelerated course of study, he remained in Paris for a couple of years in order to perfect his technique even further. At 13 years old he met with Adam Mickiewicz and Fryderyk Chopin, two of the most prominent Polish immigrants in France at the time. The encounter was to have a lasting effect on Wieniawski, and his first serious compositions origin from this period of his life.
…



Piotr Janowski was born in Poland in 1951 and won the International Wieniawski Competition only 16 years old. Ever since his early childhood he has cherished a special love of Polish romantic music, of which he now stands out as one of the most significant advocates.
…
He received his MA degree from the Warsaw Music Academy and continued his studies in the US under Jascha Heifetz, Ivan Galamian, Henryk Szeryng and Zino Francescatti. He has won a series of awards for his playing and has toured the world as a soloist and chamber musician. Janowski has recorded CDs on the 2L, Muza, Pantheon, Olympia, Phoenix and Norske Gram labels. He also is a celebrated teacher of violin playing and chamber music. He now lives in Norway where he has a close and good cooperation with Norwegian pianist and composer Wolfgang Plagge (*1960). The two of them have widely gained acclaim as a brilliant duo with a repertoire covering every genre from Baroque to contemporary music.



…
Wolfgang Plagge made his debut as a pianist aged only twelve, and has ever since been an active international performer, especially as a chamber musician. He has been awarded several prizes as a performing artist and received his MA from the Musikhochschule in Hamburg, Germany, with distinction. Plagge is pursuing an international career as a composer and has written works in all kinds of settings and genres. He has recorded for the 2L, Simax, Philips and Norske Gram labels.

01. Allegro de Sonate op.2 (1848 ©1851 Kistner, Lipsk) 7:53
Presto pour violon et piano concertant par les frères Henri et Joseph Wieniawski



02. Romance sans paroles et Rondo élégant op.9 (1852 ©1853 Kistner, Lipsk / Girod, Paris) 10:46



03. Fantaisie orientale op.24 (1862 published posthumously) 4:42



04. Adagio élégiaque op.5 (1852 ©1853 Litolff, Braunschweig / Girod, Paris) 6:50



05. Polonaise brillante en ré majeur op.4 (1852 ©1858 Litolff, Braunschweig) 5:51



06. Grand duo polonais op.8 (1852 © Bote & Bock, Berlin) 14:20
pour violon et piano concertant par les frères Henri et Joseph (op.5) Wieniawski



Opus 8 and opus 24 are WORLD PREMIERE RECORDINGS 2005
2L Records
distributed in Australia by
Rockian Trading
SACD, DSD & and their logos are trademarks of Sony Corporation