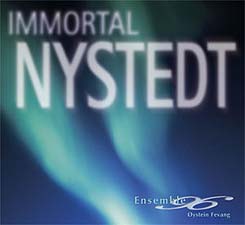 IMMORTAL NYSTEDT

Ensemble 96
Bærum Vokalensemble
conductor Øystein Fevang


2L29SACD


This hybrid SACD will also plays on all standard players and computers.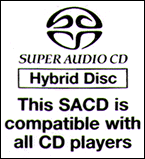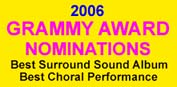 Knut Nystedt - a "land of adventure"
He has a thorough knowledge of the choral medium! It might sound like a weak cliché, passed off as an advertisement for a recording of choral music. Note however, the following facts: when the legendary Olavsguttene boys' choir gave their first concert in 1927, twelve year old Knut was among the trebles; the date of composition of the most recent work on this recording is 2003. We are in other words dealing with seventy-six years of choral experience. One would be hard put to find - in all the choral repertoire in the world - any other works based on longer experience, or a longer apprenticeship. Apprenticeship - an important concept in Nystedt's work; it is perhaps a little disrespectful to call Nystedt an "eternal student" - yet he has an unquencheable curiosity, ever keen to conquer new musical territory. Starting out with a style of nationally tinged neo-classicism - and always with Palestrina and Bach as his guiding lights - he has, without prejudice, adopted the avant-garde techniques of twentieth century music.




Ensemble 96
When the chamber choir of the Oslo Philharmonic was disbanded in 1996, many of its members wished to continue their work as an independent choir. Øystein Fevang, who had been engaged as a soloist with the choir, was offered the job of leading the new group, which took the name Ensemble 96. The choir has had a highly successful career to date, participating in national and international choral competitions, and never coming away without a prize!



Ensemble 96 has established itself among the elite of Norwegian vocal ensembles, attracting the attention of international music critics: "Under the masterful direction of Fevang, Ensemble 96 performs with sumptuous warmth and clarity. …



Øystein Fevang
A grand piano at the Hurdal Verk school proved a decisive element in the fifteen year old Øystein Fevang's musical development. He had played the organ previously, but it was the sound of the piano which inspired him to pursue music - and to practise! At the school he also sang in the choir, his first experience of choral singing. As a keyboardist and band member he performed frequently, turning professional after a period. The long and varied performing experience he gained was a useful fundament for later work. At the age of 23 he embarked on a formal music education. Øystein studied singing at the music conservatory in Oslo where his teachers included Egil Frostmann and Helge Birkeland. Subsequently he took a master's degree in choral conducting at the Norwegian Academy of Music, tutored by Stefan Sköld. Thus he layed the foundation for a career as a baritone soloist, choir conductor and lecturer. For several years he has taught choral conducting at the Norwegian Academy of Music and at Rud sixth form college in Bærum. Øystein commands a broad repertoire, though he admits one particular field of especial interest: recent Nordic choral music.



Bærum Vocal Ensemble
Bærum Vocal Ensemble's female members are aged 18-30. The choir is ambitious, and known for beautiful tone colour and a varied and engaging repertoire. Under it's previous conductor, Øystein Fevang, it was awarded first prize in the Norwegian competition for female choirs in 2003. The choir's conductor from August 2004 is Anine Kruse.


Knut Nystedt 1915-



01.-06. Prayers of Kierkegaard 17:42
opus 157 SATB • text Edna and Howard H. Hong



07. Salve Regina 5:04
opus 156 a TTBB • text Maria-antiphone 1100 AD



08. The Word Became Flesh 7:23
opus 162 SATB • text John. I: 1-14



09.-12. Nytt er livet 7:05
opus 170 SSAA • text Olav Mosdøl



13.-19. Jesu sieben Worte 11:00
opus 171 SATB



20. Immortal Bach 3:54
J. S. Bach (arr. Knut Nystedt) SATB



Ensemble 96 conducted by Øystein Fevang
Bærum Vokalensemble track 9-12
Beate Kronen soprano track 3, 5 and 10
Gea Aartun soprano track 5
2L Records
distributed in Australia by
Rockian Trading
SACD, DSD & and their logos are trademarks of Sony Corporation