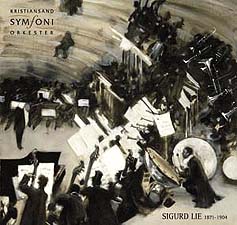 Sigurd Lie

KRISTIANSAND symfoniorkester
Terje Boye Hansen
Terje Tønnesen fiolin
Frode Olsen bassbaryton


2L27CD



Sigurd Lie was born in Drammen on 23 May 1871. From the age of two he grew up in Kristiansand where his father worked as a school teacher. Lie's parents were keen amateur musicians – his mother played the piano and his father sang in choirs. The young boy learned to play violin and piano, and began composing in his mid teens. He also showed considerable aptitude for mathematics, and after completing school in 1889 he entered the university in Kristiania to study science and mathematics. He continued to study music theory and composition with Iver Holter. Holter writes: "Sigurd Lie was one of the most enjoyable pupils I have had. He was deeply interested, very thorough and wanted to get to the bottom of everything, and he was very bright and quick on the uptake – a hint or a word would be enough. He was so hard working that I almost had to stop him at times when he looked very tired … ." And he did not lack a sense of humour, either: "He was always game for a laugh and enjoyed a joke."



After about a year Lie gave up his university course to concentrate fully on music. From 1891 to 1893 he studied in Leipzig with, among others, Carl Reinecke, who had previously taught both Edvard Grieg and Johan Svendsen. At this time he began to be aware of his lung disease. One of his friends says: "We had been at the opera together. On the way home he had a heavy fit of coughing. There were spots of blood on his handkerchief, and, on the doctor's orders, he was taken home where he spent several days in bed. He was very depressed."



In 1892 Sigurd Lie published his first music, a collection of songs to words by Vilhelm Krag. The songs were generally well received, though certain harmonies were a bit too much for Morgenbladet's reviewer: "In general they sound lovely, but from time to time they come over one like a freezing shower, leaving one cold and uncomfortable." Among the works he composed in Leipzig were a collection of piano pieces and a string quartet in D minor. A piano quintet from the same period has been lost.



After a time concentrating on performing Lie embarked in 1894 on a new period of study, this time in Berlin. …



Kristiansand Symphony Orchestra The year 1818: Beethoven was struggling with his fortepiano sonata, Wagner was five years old – was there anything going on in Kristiansand? There certainly was: as part of a reorganization of the Norwegian armed forces a nineteen man strong military wind band had been established. Humble beginnings, perhaps, but nonetheless these were the roots of Kristiansand's professional music life today.



The next major event in the history of the orchestra was the founding of the Kristiansand Town Orchestra in 1919. This was an amateur ensemble; it was not until some forty years later they were able to offer their first subscription series. In 1967 the orchestra changed name to Kristiansand Symphony Orchestra, and towards the end of the 1980s the first professional string players were engaged. This layed the foundation for the Kristiansand Chamber Orchestra, an ensemble which developed rapidly under the leadership of Stephan Barratt-Due from, and subsequently (1996-2003) under Jan Stigmer. The Chamber Orchestra has made several recordings and given concerts in Europe, South America and China.



Joining forces with wind players from the town's professional military band, it was now possible to give concerts for full symphony orchestra. The Norwegian Armed Forces disbanded the military ensemble in 2002 and all musician posts were transferred to the Kristiansand Symphony Orchestra as of 1 January 2003. Thus it is that Kristiansand today has a fully professional orchestra employing 48 musicians full-time and 5 musicians part-time. This particular model is unique in Norway and allows for three main constellations: Kristiansand Wind Ensemble, Kristiansand Chamber Orchestra and Kristiansand Symphony Orchestra. This is the Symphony Orchestra's first CD recording.



Terje Boye Hansen was born into a family of musicians in which learning to play an instrument was a matter of course. Terje learnt to play three. He began with the clarinet at the age of six, has a period learning the flute, and turned finally to the bassoon by which time he was sixteen. For two decades he was a member of the Orchestra of the Norwegian National Opera; towards the end of his tenure he was principal bassoonist.



He started to conduct at a early age. At seventeen he was presented with his first major task: to resurrect a school wind band decidedly lacking in enthusiasm and numbers. In the space of a short time Boye Hansen had succeeded in doubling the number of members, and the band was literally back on its feet in time for the national May 17 celebrations.
…


Sigurd Lie [1871—1904]



Symfoni i a-moll 30:36
01. Allegro con fuoco 9:11
02. Andante cantabile 7:55
03. Allegretto scherzando 5:50
04. Allegro vivace 7:40



05. Konsertstykke for fiolin og orkester 8:26
- over folkevisa Huldre aa'n Elland



06. Wartburg 9:02
- ballade for bassbaryton med orkester (tekst av Theodor Caspari)



KRISTIANSAND symfoniorkester | Terje Boye Hansen
Terje Tønnesen fiolin | Frode Olsen bassbaryton
2L Records
distributed in Australia by
Rockian Trading
SACD, DSD & and their logos are trademarks of Sony Corporation